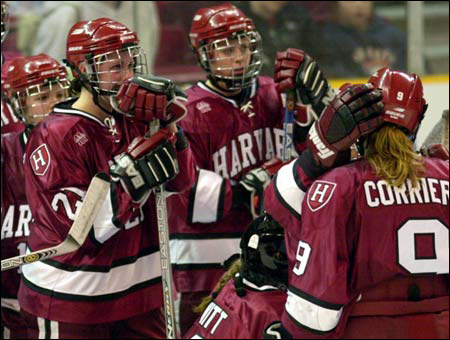 One is bound to feel some déjà vu in the wake of the Harvard women's hockey team's recent stumble in the Big Dance. Yet unlike last year's showdown, when the University of Minnesota-Duluth pulled off a dramatic 4-3 win in the second overtime, the Crimson's 6-2 loss against the University of Minnesota this past March 28 played out more like a nightmare than a nail-biter.
Things started out auspiciously enough when the No. 2 Crimson netted the game's first goal against the top-ranked Golden Gophers at the Dunkin' Donuts Center in Providence. Through 40 minutes of hockey, Harvard never once trailed. That is, until the third period, when Minnesota unleashed a four-goal barrage, including a pair in the frame's first 41 seconds. Two insurance goals later, Minnesota had clinched the deal – and title – as the Crimson watched its 2003-04 campaign come to a grim close. Harvard finishes up at 30-4-1.
Down 1-0, Minnesota's first line responded at the 4:51 mark of the second period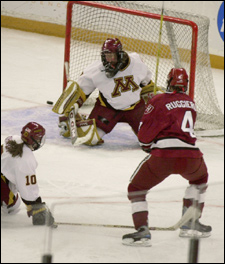 when American Olympic hopefuls Natalie Darwitz, Kelly Stephens, and Krissy Wendell combined for the equalizer on a masterful three-on-one break. Nearly seven minutes later, Harvard was back on top when Ruggiero found teammate Nicole Corriero '05 at the left post. Capitalizing on the power play, Corriero chipped it past Gopher goalie Jody Horak to give Harvard the 2-1 edge. A game-high 16 shots on goal in the middle period eventually paid off for Minnesota, however, who snuck one past Crimson netminder Ali Boe '06 to tie things up late in the frame before the teams headed to their locker rooms.
From there, it was all Gophers, who took their first lead of the game just nine seconds into the final frame off a Natalie Darwitz goal: an NCAA record for the fastest tally out of an intermission. Minnesota extended its lead to 4-2 just 32 seconds later when Kelly Stephens helped the puck past Boe. Minnesota continued the onslaught – and the nightmare – with two additional tallies for the 6-2 win.
For her defensive efforts, senior Angela Ruggiero, who accepted the coveted Patty Kazmaier Memorial Award on the eve of game day, was named to the All-Tournament team, while Boe recorded a career-high 35 saves against Minnesota, which captured its first NCAA championship.