The tour of Harvard Square left little doubt in Jody Pinto's mind that this was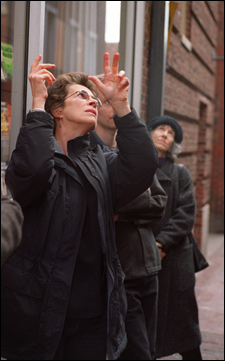 a neighborhood full of well-loved buildings and important historical sites.
"Everywhere we went, someone would say, 'Oh, I just love this building, I love the brickwork,' or 'the detail above the door.' Or they would say, 'My neighborhood group fought against a developer to save this building, and we won!'"
But there were no aesthetic effusions or tales of battle with money-grubbing philistines when the group got to Palmer Street.
Palmer Street is that narrow, nondescript alleyway that runs between Church and Brattle. The four-story Harvard COOP buildings on either side and the sky bridge connecting them cut off the light, making the street as dark as any medieval passageway in the Latin Quarter but without the romance. There are no storefronts except for the entrance to the basement folk music club, Passim's, but store backs abound, as do dumpsters and corrugated overhead doors, while the street surface itself, a patchwork of asphalt, cobblestone, and brick, adds to the general air of haphazardness and neglect.
To Pinto, an artist whose specialty is infusing the magic of light and color into the most humdrum, unpromising settings, Palmer Street was a precious opportunity, whose value lay in the fact that nobody cared much about it.
"When I met with the historical commission, I could hear a general sigh of relief when I mentioned Palmer Street. It's a street that has tremendous possibilities. The only thing that limits it is the imagination." Pinto was selected by the Cambridge Arts Council to work on the Harvard Square Redesign Project, now in the planning stages, and focusing mainly on making improvements to the Square's sidewalks, roadways, landscaping, signage, and lighting.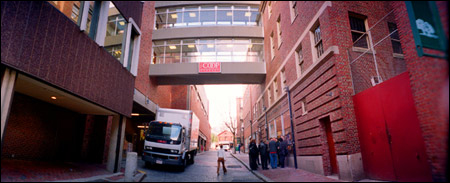 She is also the 2003-04 Marshall Cogan Visiting Artist with the Office for the Arts at Harvard. On April 7, she led a group of students, Cambridge Arts Council members, and others on a visit to Palmer Street to describe the changes she has in mind. That evening she gave a slide lecture that put the proposed Palmer Street renovations in the context of her earlier work.
Pinto said that Palmer Street reminds her of a hyphen, that prehensile particle of punctuation that pulls words together into synergistic combinations.
"A hyphen energizes two words but it doesn't really change them," Pinto said. "Brattle is Brattle, Church is Church, and Palmer is the hyphen between them. It doesn't merge them. It energizes them."
To create this energy, Pinto plans to infuse Palmer Street with light. In her colorful sketches, the plain brick walls of the buildings are enlivened by Mylar banners designed by local artists, the overhead service doors are decorated with murals, the columns outside the back entrance to the COOP are clad in light-catching reflective material, the two-story sky bridge is covered in translucent fiberglass and fitted with lights that flash on in response to passing pedestrians – and this is just during the day!
At night it's a different world – with glowing fiberglass benches, buried lights flush with the pavement sending plumes of illumination into the air, and the sky bridge, now transformed into a screen, showing movies or other types of animated projections.
"Now Palmer Street has no light. It's dead. But when this is done, you're going to glance at it as you walk by and it's going to be just pulsing with light."
Pinto's plans also call for the street to be closed to vehicular traffic on weekends and special occasions, making it a site for street festivals and celebrations. She sees the street as the potential setting for a continually changing series of theatrical events, a concept she is familiar with from her upbringing in New York City.
"New York City is theater. I grew up on 57th Street, surrounded by jazz clubs,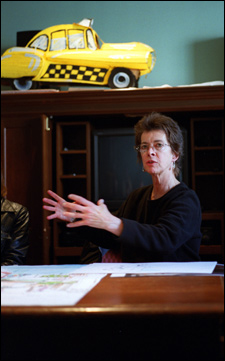 art galleries, just down the block from Carnegie Hall. My parents were both artists. My father was a painter and photographer, and he also did set designs for theatrical productions. My mother illustrated a column for the Philadelphia Inquirer. All of the kids grew up with crayons in our cradles. Our apartment was a theater within a theater, and that influenced the way I thought about the city."
Pinto set out to be a studio artist, but the real turning point in her career came when she moved to Philadelphia and got into community organizing. Soon her organizing activities and her artistic impulse came together, and she began directing artistic projects in empty lots and abandoned buildings, attracting far more notice than her studio work ever did. She has worked as a creator of public art ever since.
The slide show Pinto presented on Wednesday evening showed some of the enchanting environments she has created around the United States and overseas. They included an airy pedestrian bridge in the form of God's finger in Michelangelo's Sistine Chapel fresco; another pedestrian bridge in a San Antonio convention center in which the movements of passersby set off light patterns in the stretched fabric walls; a series of translucent, brightly colored escalator enclosures in the parking garage of the Fort Lauderdale airport that introduce a magical dimension into the otherwise dreary experience of parking one's car; light islands in Tokamachi, Japan; and a sculpture garden in Pasadena, Calif. It was impossible to watch the presentation without feeling eager for the time when Palmer Street takes its place in this colorful, lighthearted array.
Pinto emphasized that her plans for Palmer Street were preliminary – these were ideas she was throwing out, hoping for responses and suggestions from students, community members, whoever wants to get involved. The participation of the business community is also essential, she said, as a source of ideas and energy as well as funding.
"This is an incredible opportunity for all of us to actually design a street in an area that benefits everybody," she said.