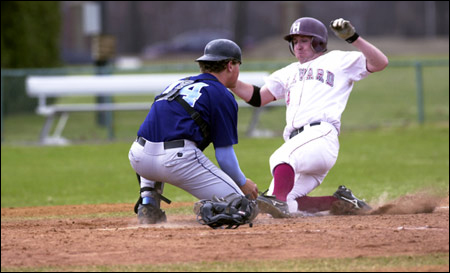 Blazing bats aside, it was another round of solid pitching that helped rocket the Harvard baseball team to the top of the Red Rolfe Division this past weekend at home. In a pair of doubleheader sweeps, four starting Crimson hurlers (and four relievers) allowed Columbia and Penn just nine runs, as Harvard held off the Lions, 4-3, and 10-2, on Friday afternoon (April 9), before dismissing the Quakers, 5-1, and 7-3, the following day (April 10). With the wins, Harvard (13-9-1) improves to 7-1 in league play. In the opening game against Columbia, senior hurler Jason Brown enjoyed plenty of breathing room early on thanks to his hot-hitting teammates (Harvard scored all four of its runs by the third inning). Through nearly six innings on the mound, Brown retired 12 of 13 batters before the Lions finally made some noise in the top of the sixth, scoring on an RBI single and a two-run homer. Freshman Jake Bruton replaced Brown following the home run and quickly forced a fly out to end the rally, and the inning.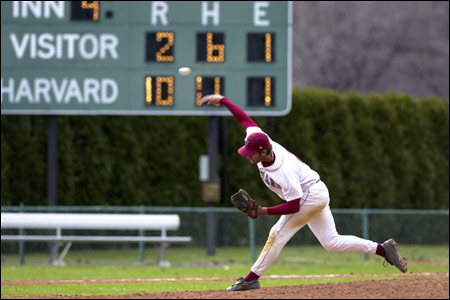 Following a quick three-up-three-out inning, Harvard returned to the field for the final inning. Replacing Bruton on the mound, Trey Hendricks '04 struck out two batters before forcing a ground out to earn the save.
In game two, the Crimson exploded for five runs in the fifth inning to build on an already intimidating 5-1 advantage. Zak Farkes '06 and Schuyler Mann '05 each notched a home run in the win, while pitcher Mike Morgalis '04 gave up just five hits and one earned run in eight innings of action. Morgalis also recorded six strikeouts.
Against the Quakers on Saturday, Harvard again found some trusty gloves in the one-two punch of Frank Hermann '06 and Hendricks. Throwing a complete game, Hermann struck out four Penn batters, while allowing just three hits and one walk in the 5-1 win. Meanwhile, co-captain Hendricks, who recently earned the league's Pitcher of the Week nod, whiffed five Quaker players in eight innings of action. The right-handed senior surrendered just two runs in the 7-3 win, and also drove in a pair of runs to lead his teammates at bat. With the win, Hendricks improves to a team-best 4-1.
Two scheduled games from earlier this week – an April 13 meeting with B.C., and an April 14 home game against Northeastern – were postponed due to inclement weather. Pending the arrival of better baseball conditions, Harvard will face the Huskies today (April 15) at O'Donnell Field, and the Eagles on Friday (April 16) at B.C.'s Commander Shea Field. Opening pitch for both games is slated for 3 p.m. Harvard also opens divisional play this weekend with a pair of doubleheaders against Yale in New Haven. Check http://www.gocrimson.com for times and updates.