Bruno's 'Atlas of Emotion' receives third book award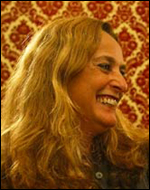 Professor of Visual and Environmental Studies Giuliana Bruno received the Kraszna-Krausz Moving Image Book Award in Culture and History at a March ceremony for "Atlas of Emotion: Journeys in Art, Architecture, and Film" (Verso Books, 2002).
Bruno's book was selected among 260 books from 11 countries (published in the past two years) as the "world's best book" on the moving image.
Earlier this year, "Atlas of Emotion" was named "Book of the Year" for 2003 in The Guardian, and won "Outstanding Academic Title" from more than 6,700 considered titles by Choice, the official publication of the American Library Association.