HARVARD STEM CELL INSTITUTE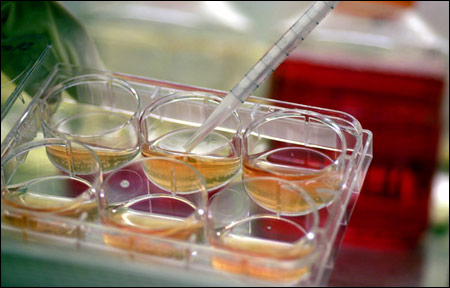 ---
Stem cell videos:

[default format for video is RealPlayer. For videos in Quicktime format, visit http://www.harvard.edu/multimedia/]
---
– More stories about stem cells
– Harvard Alumni Association videoconference on stem cells, "Unlocking the promise of stem cells"
– Harvard Stem Cell Institute hosts inaugural symposia (press release 4/23/04)
---
Seven Harvard schools, seven teaching hospitals, and close to 100 researchers and scientists are banding together in an ambitious new institute with a simple goal: to use stem cells to help the 150 million people nationally living with or dying from five types of organ and tissue failure.
The goal's simplicity belies the complexity of the task at hand, however. To achieve its aims, the new Harvard Stem Cell Institute (HSCI) will mount the largest, most comprehensive effort of its kind. It will tap resources across the University, break new scientific ground, pioneer new medical treatments, identify significant nongovernmental funding sources, and wrestle with ethical, religious, and political ramifications.
Along the way, the institute will bring together isolated investigators who are already performing cutting-edge stem cell research, making Harvard one of the leading centers for this type of work in the world.
"The Harvard Stem Cell Institute is an important effort to help unlock one of the fundamental mysteries of life, and could lead to important new medical treatments," said Harvard President Lawrence H. Summers.
Stem cells, with their ability to develop into specialized tissue cells, have excited researchers with their promise. By understanding how they work, researchers hope they can learn to develop nerve, blood, bone, and other kinds of cells to be used to treat a wide spectrum of diseases.
The institute will encourage stem cell research as it progresses on several fronts. Research into adult stem cells is the most advanced. These cells create specific tissue types, such as blood, nerve, or muscle. Blood stem cells are already being used in treatments, particularly for leukemia and other blood cancers. Work on adult and embryonic stem cells in animals, as a way to understand their function in humans, is also progressing rapidly.
Some of the most promising – and controversial – stem cell work is with human embryonic stem cells. Embryonic stem cells are unique because they can develop into any cell in the body. The Harvard Stem Cell Research Committee, established to review nonfederally funded research on human embryonic stem cells, will review research proposals before they go forward.
In addition to the research being conducted by the Faculty of Arts and Sciences, Harvard Medical School, and by researchers at the Harvard teaching hospitals, the institute will draw on resources across the University to examine the ethical, political, religious, economic, and other ramifications of the research.
"Given the potential we have here, to not take advantage of it would be a tragedy in a way," said institute Co-Director and Harvard Medical School Professor David Scadden, who also serves as director of Massachusetts General Hospital's Center for Regenerative Medicine and Technology. "We hope to create a crucible in which these interactions [among researchers] will happen."
The institute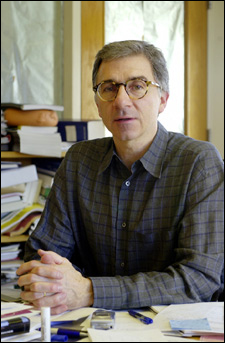 In its initial phase, the institute will be a "virtual" center, supporting research and drawing scientists together who work in laboratories that may be physically distant.
Researchers will develop core laboratory facilities and needed technology to perform functions such as cell sorting, imaging of stem cells in their natural environments, and the transfer of nuclei between cells.
The institute will also seek to create a community among researchers through frequent informal gatherings focused on a particular scientific problem, through monthly seminars with outside experts, and through two symposia in its first year and then an annual symposium after that.
Within a few years, Scadden and the institute's other co-director, Douglas Melton, the Thomas Dudley Cabot Professor of the Natural Sciences and investigator for the Howard Hughes Medical Institute, said they hope to add a central physical location for the institute, complete with laboratory facilities. Though some researchers would continue to work in their own labs at different locations, the physical closeness of a central lab facility should allow informal meetings and foster an environment that will lead to new ideas and lines of inquiry.
Though basic science is critical to the effort, Scadden said the institute's reason-to-be is a practical one. Its main goal is to develop scientific advancements into practical treatments for patients.
"This is predominantly driven by the scientific opportunity to make a difference in human health," Scadden said. "If at the end of the day, we haven't come up with some clinical results that have an impact on human health, we will not have accomplished our goals."
Organizers of the effort hope that the institute's stimulating effect will extend beyond Harvard, as new techniques, tools, and knowledge foster research in other locations. Melton has already taken the first steps in that direction. He announced in March that he had developed 17 new embryonic stem cell lines with private funding and that he would share those cells freely with other investigators.
Melton's work doubled the number of useful stem cell lines available to researchers and touched off a wave of excitement in the scientific community. It also drew the interest of the national media, focusing attention on the difficult political environment surrounding this research.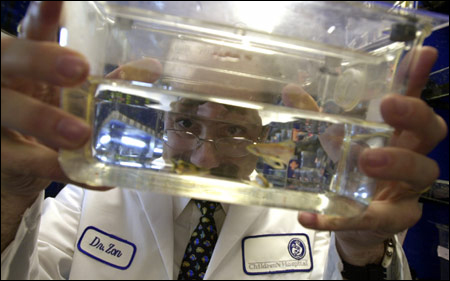 The debate
Some critics have vocally opposed embryonic stem cell research. Opponents argue that the research is unethical and ought to be banned because it is performed on cells derived from human embryos. The embryos, just a few days old, are destroyed during the process of extracting the cells.
Supporters argue that the fertilized eggs used in stem cell research would be discarded by the fertility clinics where they are stored because they are no longer needed for treatment. Rather than destroying the eggs, supporters argue, it makes moral and ethical sense to use them for research that could lead to treatments for diseases afflicting millions of people.
Because of the controversy surrounding embryonic stem cell research, the institute's ability to attract private funding may be a determinant in its effectiveness.
Federal funding for research on embryonic stem cells was restricted in August 2001, when President Bush announced that federal funds would be available only for research on stem cell lines already in existence.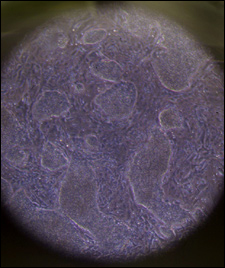 At that time, it was estimated that approximately 60 stem cell lines derived before Aug. 9, 2001 were available worldwide. Scientists have since discovered that, due to intellectual property concerns, logistics involving lines located abroad, and problems with viability, only 18 lines are currently available and useful.
Supporters of stem cell research said they are concerned that the government's decision will have a chilling effect on the field, convincing young, promising researchers to pursue other avenues of inquiry.
Private donors have stepped forward to fill at least part of the financial gap, however. Advocacy groups for the victims of specific diseases, such as the Juvenile Diabetes Research Foundation, and other private foundations, such as the Howard Hughes Medical Institute, have raised money to finance research. Individuals have also made financial commitments to support stem cell research.
Howard Heffron, a member of the Harvard Law School Class of 1951, donated $5 million toward the setup of the new Harvard Stem Cell Institute. Heffron said he wanted to help fill the void left by the federal government. Stem cell research has promise to help people like his daughter Nancy, who has diabetes, and like his close friend, the late Law School Dean James Vorenberg, who had Parkinson's disease.
"Knowing these people so intimately, I watched them suffer and deal with the ravages that these diseases bring. I watched helplessly," Heffron said. "The potential there [for stem cell research] is so great for helping people in this situation. Here's something to latch onto, to feel like I'm doing something, however indirectly, for these people."
The diseases
The new institute is focused on five disease types for which stem cell therapy seems most promising. The diseases all result from some sort of organ or tissue failure and include:
diabetes, in which insulin-producing cells in the pancreas are destroyed, impairing the body's ability to metabolize sugar;
neurodegenerative diseases, such as Parkinson's disease, which destroys neurons in the brain, and spinal cord injury;
blood diseases, including leukemia, in which abnormal blood cells are produced, and immune diseases such as AIDS;
cardiovascular disease, where heart muscle tissue is destroyed during heart attacks;
musculoskeletal diseases, such as muscular dystrophy.If it works as planned, the institute would take a leadership position in the field and become a focus for work on the most important scientific and medical questions. It would also be a place where the critical ethical, legal, and policy questions will be investigated and debated."I would like Harvard to be the place where you come to work on stem cells," Melton said.

Leonard Zon, a professor of pediatrics at Harvard Medical School and at Harvard-affiliated Children's Hospital, and president of the International Society for Stem Cell Research, said other institutions such as Stanford University have already organized stem cell efforts, but few have the resources already present at Harvard.

"We have a tremendous intellectual community already existing, and when drawn together I think there will be nobody who can possibly touch us," Zon said. "I think the stimulation for the entire field will be tremendous."