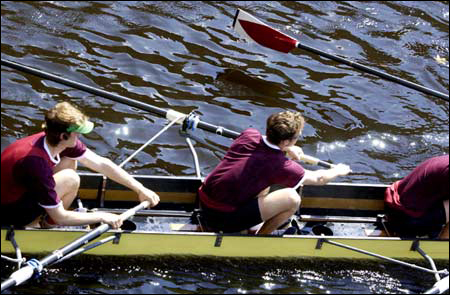 Harvard men's heavyweight crew further expanded its trophy collection this past Saturday (April 24) with a nine-second triumph over visiting Navy in the 69th rowing of the Adams Cup. Earlier this month, the defending national champion Crimson (ranked No. 1 in the national polls by USRowing) captured the Stein Trophy in Providence and the Compton Cup on the Charles en route to its 5-0 dual-meet record.
In the first race against Navy and Penn (who also participated in the Adams Cup), Harvard's First Varsity 8 established an open-water lead just short of the midway point. The sixth-ranked Midshipmen failed to close the gap in the remaining stretch, while the No. 17 Quakers finished third at 6:24.6 – 21 seconds behind the Harvard oarsmen.
The Crimson went on to sweep the remaining four races, to keep Harvard's Second Varsity 8 and First Freshman boats' perfect seasons intact. The 2V held a three-length advantage over Navy in the early going before turning it on in the second 1,000 meters for a 13-second win. Penn placed third in the race, crossing the finish 10 seconds after Navy.
Next up, the freshmen got off to a quick open-water start to greet the checkered flag at 6:22.3. Penn, meanwhile, grabbed its first of two second-place finishes on the afternoon at 6:34.7 – just three seconds ahead of Navy.
Harvard went on to capture the remaining two races – Third Varsity 8 and Second Freshman/Fourth Varsity – by a margin of 13 and eight seconds, respectively.
The heavies will wrap up their dual racing season on Saturday (May 1) against another Charles River tenant – Northeastern – for the Charlie Smith Cup. Now in its 25th year, Harvard has won the race on 21 occasions. The No. 10 Huskies last captured the cup in 1997. Saturday's race starts at 9:12 a.m.