Internationally acclaimed cellist Yo-Yo Ma will receive the 10th annual Harvard Arts Medal on May 9.
Harvard President Lawrence H. Summers will present the Arts Medal to Ma, who is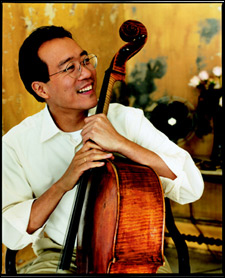 a 1976 graduate of Harvard, as part of Arts First 2004, the 12th annual celebration of the arts at Harvard. The Harvard Arts Medal was created to honor a distinguished Harvard or Radcliffe alumnus/a or faculty member who has achieved excellence in the arts and who has made a special contribution through the arts to education or the public good.
Ma joins previous Harvard Arts Medal recipients, including filmmaker Mira Nair '79, composer John Harbison '60, National Theatre of the Deaf founder David Hays '52, author John Updike '54, musicians Bonnie Raitt '72 and Pete Seeger '40, and the late actor Jack Lemmon '47.
The many-faceted career of cellist Yo-Yo Ma is testament to his continual search for new ways to communicate with audiences, and to his personal desire for artistic growth and renewal. Whether performing a new concerto, revisiting a familiar work from the cello repertoire, coming together with colleagues,
---
Yo-Yo Ma will take part in a discussion of his career and creative process on May 9 at 7 p.m. in Sanders Theatre. Co-sponsored by the Harvard University Board of Overseers and Learning From Performers, the event – moderated by actor John Lithgow '67 – will also include musical performances and an audience Q&A. Admission is free and open to the public, but tickets are required. For ticket information, visit the Arts First Web site at http://www.fas.harvard.edu/arts, or call the Harvard Box Office after April 15 at (617) 496-2222 from noon to 6 p.m., Tuesday-Sunday.
---
reaching out to young audiences and student musicians, or exploring cultures and musical forms outside of the Western classical tradition, Ma strives to find connections that stimulate the imagination.
One of Ma's goals is the exploration of music as a means of communication – and as a vehicle for the migrations of ideas – across a range of cultures throughout the world. To that end, he has taken time to immerse himself in subjects as diverse as native Chinese music with its distinctive instruments and the music of Africa's Kalahari bush people.
Expanding upon this interest, Ma established the Silk Road Project to promote the study of the cultural, artistic, and intellectual traditions along the ancient Silk Road trade route that stretched from the Mediterranean Sea to the Pacific Ocean. By examining the flow of ideas throughout this vast area, the project seeks to illuminate the heritages of the Silk Road countries and identify the voices that represent these traditions today. The Silk Road Project acts as an umbrella organization and common resource for a range of cultural and educational programs. Ma's musical role in the project includes performances of commissioned works – both concertos and chamber pieces for specially created Silk Road Ensembles (which tour with these works) – and traditional music from Silk Road countries. Over the next few years, the Silk Road Project will join with leading museums in Asia, Europe, and North America to co-produce a series of performance, exhibition, and educational events.