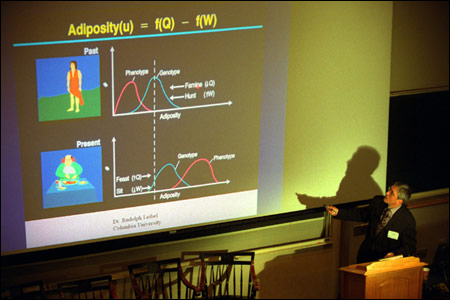 Amid shifting scientific data on nutrition and obesity, experts from government, industry, and academia converged on Harvard Medical School last week to discuss obesity's causes and how to craft a coherent public nutritional message.
Several speakers asserted that the public is concerned about nutrition, but it is confused with conflicting messages on fat, carbohydrates, protein, and calories. Added to the mix is the growing evidence that fighting obesity isn't as simple as "eat less and exercise more."
"Consumers are incredibly confused; they do not know who to trust," said Patricia Verduin, senior vice president and director of product quality and development of ConAgra Foods Inc. "We have to have a clear, simple, relevant message for consumers."
Verduin joined a dozen other experts in a variety of fields at a two-day conference (March 10-11) on obesity sponsored by Harvard Medical School's Division of Nutrition and the Harvard School of Public Health. The conference, called "Science Based Solutions to Obesity: What is the Role of Academia, Government and Industry?", explored the roots of the obesity epidemic and examined possible actions to fight it.
Speakers over the course of the two days addressed a wide range of issues, including genetics, physical activity, behavior, protein, portion size, gastric surgery, long-term weight management, and government and industry efforts.
Allen M. Spiegel, director of the National Institute of Diabetes and Digestive and Kidney Diseases, said the data to explain the obesity epidemic is poor, and that it appears that even a small positive energy intake over many years can result in a large weight gain.
Spiegel said the National Institutes of Health have formed a task force that will look at the problem comprehensively. Among issues the task force will examine is obesity's impact on other diseases, such as diabetes, heart disease, cancer, stroke, asthma, and high blood pressure.
The task force will also examine how the body uses and stores food and look at new therapies to combat obesity.
One thing that seems clear, Spiegel said, is that the problem is complex and any solution that focuses exclusively on environmental or on genetic factors is doomed to failure.
"If we single-mindedly focus on one or the other, we're not going to do it," Spiegel said.
Though Spiegel said action is needed right away, research is also critical. Some research NIH is planning, he said, would use model organisms to understand obesity's genetic roots. The research would also seek to illuminate the environmental effects that lead to obesity and identify factors in childhood obesity that can be changed.
"I believe that is the best hope for reversing the epidemic and moving us away from calamity," Spiegel said.
To finance the NIH efforts, President Bush's proposed fiscal 2005 budget contains $22 million in additional funds for obesity-related research, a 10 percent increase, Spiegel said.
"Clearly, NIH alone cannot be a solution to this problem," Spiegel said. "But the NIH has a major contribution to make and with this plan, we believe we're in a position to do so."
Speakers from the food industry, representing ConAgra and Coca-Cola, said it's important that solutions are practical.
Though consumers talk about eating healthier, they are concerned about much more than just healthy foods. Taste is paramount, and consumers won't eat foods that don't taste good. Cost is also critical, as consumers don't want to spend a lot of money for specialized diets. Convenience is also important, particularly for harried working parents, who don't have time to cook a big meal for the family every night.
Despite those other pressures, nutrition is increasingly important to consumers. That, in turn, is making food companies focus on nutrition more, according to ConAgra's Verduin. But Verduin said changes to formulations for various foods happen slowly, in order to let consumer tastes adjust.
"Consumers say, 'We want low salt, low fat' but when you give them low salt, low fat, they won't buy it," Verduin said.
Both Verduin and Donald Short, vice president of The Coca-Cola Co., said that amidst the talk of obesity, malnutrition and hunger must not be forgotten as a serious problem among American children. Eighteen percent, or 13 million children, don't know where their next meal is coming from. That compares with the 15 percent of children who are overweight or obese.
Verduin said she believed that as research advances, nutrition will become individualized, with balanced diets based on individual needs and a strong emphasis on exercise.
The food industry, she said, needs to take a lead role in self-monitoring its advertising, particularly to children, and the levels of activity and food consumption ads depict. The industry can also help adults make better nutritional choices by making labels "clear, honest, and consistent."
"Any solution has to be with consumers in mind and not with research in mind and not with our products in mind," Verduin said.
Institute of Politics Director Dan Glickman, a former U.S. congressman and former secretary of agriculture, praised Health and Human Services Secretary Tommy Thompson for addressing the issue, which Glickman said has been often glossed over by government.
"The government has virtually ignored obesity for years," Glickman said.
While government has been slow to recognize obesity as a problem, Glickman said the American public hasn't. Nine percent of all books sold last year were diet books, Glickman said.
The government is never going to tell people what they can eat, but he said the government can help set trends and provide information through tools such as the food pyramid that help people make nutrition decisions, Glickman said.
Glickman said that the government, the food industry, and academic researchers shouldn't overlook the producers in addressing obesity. Ranchers and farmers can play a potentially important role, he said.
"Important, as we look at this problem, is to make sure we don't leave out the people who produce food in this country," Glickman said.