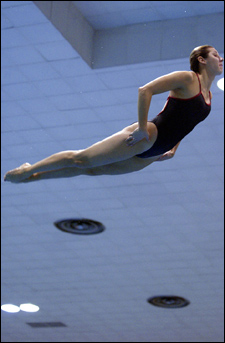 A sea of parents, family, and friends brought a storm of support to Blodgett Pool last week for the 2004 Ivy League Women's Swimming and Diving Championships. Brandishing pom-poms and banners, and dressed in their team-color best, they came by plane, car, and the Red Line to cheer on their favorite student-athletes in the "big kahuna," to quote one fan, of ancient eight swimming.
The three-day event, which ran Feb. 26-28, saw Harvard and Princeton battle for first place before the Tigers managed a third-place finish in the very last event, the 400-yard freestyle relay, to better the Crimson and capture the title for an unprecedented fifth-straight year. Princeton finished the meet with 1,361 points, just 16.5 points ahead of Harvard, while Yale placed third with 1,211 points.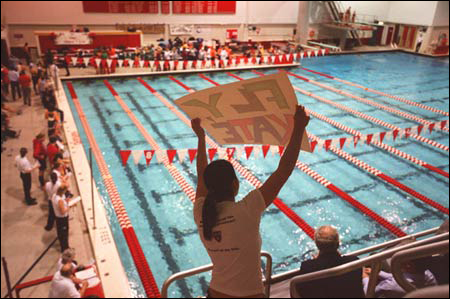 Given the tight competition, the rock 'n' roll atmosphere ("Quiet at the start!" pleaded the announcer on more than one occasion) must have provided a welcome spark to the 174 participating athletes. But the overwhelming turnout, as it turns out, is a fundamental part of the sport.
Just ask Glen Laffel of Newton, who has attended four meets this year to cheer on his daughter Nikki, who competes for Princeton. "The parents have been with them throughout their careers," Laffel said of the swimmers, describing a certain mentality that remains long after the early days of "schlepping the kids around" from competition to competition.
Another Tigers fan, Ann Fraumann, who travels regularly from her Chicago-area home to cheer on her daughter, Sarah (who nailed the meet in the final event on Saturday, Feb. 28), shared this sentiment. So much, in fact, that she confessed to getting butterflies before each and every meet.
"People who don't have children in sports don't get it," according to Sheri Rogers, who drove nearly four hours from Pearl River, N.Y., to watch her daughter, Allison, of Yale. "People wonder why you'd take two days off work to sit by a pool … where it's hot," Rogers said, with a nod to the humidity hovering over the stands.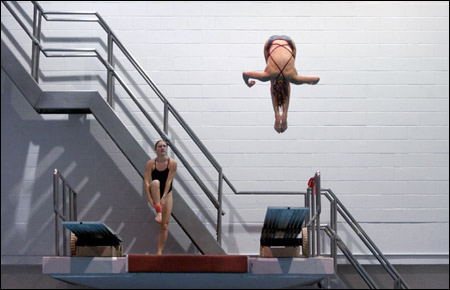 Sitting next to Rogers, Ann Harazin of Amherst, a fellow Eli fan rooting for her daughter, Paige, seemed to agree. "Anything a parent can do to share," she said, though not without acknowledging the pitfalls of parental fandom. "You know from the first couple of laps whether or not it's going to be a good day," Harazin said, before adding, "Then you just suffer through the rest."