To say that Janet Sung plays the violin well is like noting that Baryshnikov is graceful or that Ernest Hemingway knew English. Sung '95 has appeared as a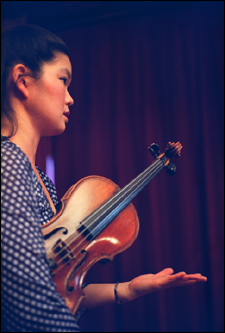 soloist with the National Symphonic Orchestra of Bashkortostan in Russia and Pusan Philharmonic in South Korea, to name a few. She's given recitals across the globe, from Lincoln Center's Alice Tully Hall to Beau-Rivage Palace in Switzerland. And last week, she gave three undergraduates a private lesson when she came to Harvard's campus as this year's Clifton Visiting Artist, which is sponsored by the Office for the Arts through its "Learning From Performers" series. Established in 1998 by Roger Clifton '57 and his wife, Sophie, the Clifton Visiting Artist program brings emerging alumna artists to Harvard.
Sung has regaled international audiences in prestigious palaces and performance halls, but she called her hours at the Senior Common Room in Winthrop House a "special treat." After all, she lived in Winthrop House her sophomore through senior years.
On Wednesday afternoon (March 3), Francesca Jean Anderegg '05, Kathryn Elizabeth Andersen '07, and Tzu-Yuan Su '04 each played a piece for a small audience and Sung, who proceeded to offer them advice and instruction. Each time a student performed her composition, Sung listened attentively, her pensive expression betraying no emotions. Then she provided a gentle critique accompanied by tips on the physical aspects of playing, like posture and string pressure, as well as suggestions of a more conceptual nature. Urging one student to be more expressive in her playing, for instance, Sung encouraged her to describe the visual picture the music evokes. She proposed "think of a certain image – certain words, even – that take you to that place."
For their part, the students found that even the brief 30 or 35 minutes they got to work one-on-one with her, Sung supplied tangible tips they could put to use in their future playing.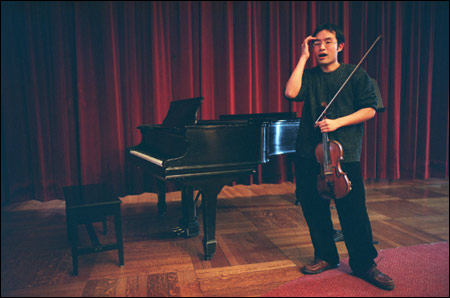 "[Sung] pointed out some things a new listener can definitely find," said Andersen. "I don't have the benefit of a fresh approach. She can spot new things that my teacher, after hearing me play for three years, might not pick up on."
Sung's resume may serve as irrefutable evidence that she has the world on her strings, but the class made it clear that her passions are hardly limited to performance. She teaches at Juilliard and has conducted master classes like the one last week at the Hartt School (a conservatory in Connecticut) and elsewhere around the country. But wherever she travels to perform, she aims to incorporate some educational enterprise into her agenda. That can range from leading a master class to visiting with fifth-graders, like she did when she was in Texas about a year and a half ago.
Her instinct to inform others found early expression – when she helped a classmate and fellow Winthrop House resident develop Harvard and Radcliffe Musical Outreach to Neighborhood Youth, or HARMONY, in 1994. Now a Phillips Brooks House program, HARMONY pairs musically experienced Harvard students with students in Boston and Cambridge public schools to teach music lessons and provide mentoring on a steady basis. Sung served as director of the group in 1994-1995, and last Sunday (March 7), she played a recital to benefit the organization and publicize its mission.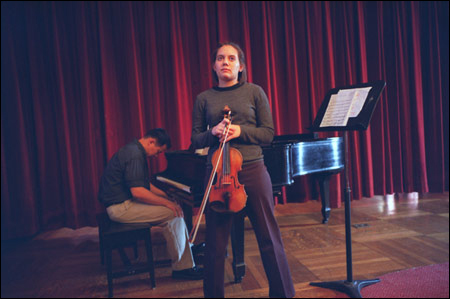 "The thing I love obviously is performing and sharing that, but the other side is wherever I go, I love to reach out – not just from a performance perspective on stage, but going into schools, giving master classes," Sung said. "It's so different to see the reaction of people responding to what you do face to face. It's particularly telling in young people because they have a very honest reaction – especially young children. They're really sponges and they absorb that experience. If they don't have the experience to hear that [music] live and communicate with someone face to face, then who knows what they may be missing? It's something I always keep in the back of my mind.
"At Juilliard, of course they love classical music," she added, "but HARMONY is kind of a special case because you're almost creating an audience in a place where you might not necessarily have gotten it before. Going out to these other schools [and working with] younger people who don't have that opportunity, it's almost like they can appreciate it more down the road."
At the outset, HARMONY worked with children in just one school. This year, HARMONY has matched 100 Harvard students with an equal number of children in six public schools.
"For a lot of Harvard students, we spent a lot of our childhoods with music, so for us it's an important part of our lives," said Tammy Hsieh '05, HARMONY's current co-director. "A lot of the students we teach might not have stability in their homes in a lot of ways. We offer the stability of regular lessons and someone that they can talk to. Basically we try to convey our own good music experiences to them. It's a source of pride for them, also, because [music] is something they can also be good at."
"I was thrilled to hear what [HARMONY] had been doing and how much it had grown and that it's still a part of the Harvard community as well as being in the larger Cambridge area," said Sung. "When I was at school, I did a benefit concert for the organization. This opportunity to go back to Harvard [through the Visiting Artist series] and then do a benefit … made perfect sense."