"You've got to use your imaginojo, baby!" Sporting a pinky ring on each of six hands, a lace dickey, and a very strong resemblance to Austin Powers, the Blind
Spider told theatergoers and his fellow actors how to navigate the Island of Anyplace – both the stage set for a bored young girl, and the name of a play produced by the American Repertory Theatre (A.R.T.) that teaches schoolchildren about drama.
On Monday (March 22), hundreds of students from nearby communities came to watch and participate in the play, written by Charles Marz and directed by A.R.T.'s Thomas Derrah. The play begins when a cranky howl rises from a seat near the front.
"Awwwwwwwww, I'm bored!" Jennifer (played by Nicole Shalhoub of the A.R.T./MXAT Institute for Advanced Theatre Training at Harvard) is a young girl whose father has dragged her protesting to the theater. They have arrived so early that the theater is "empty," and with more loud whining, Jennifer persuades her father (Kaolin Bass) to step onto the stage with her. As he tells Jennifer about the elements of live theater, she becomes a playwright, creating the story for the audience, learning how to direct, create characters, scenery and costumes, to use light and sound – and to keep things interesting.
There was little chance of the audience being bored the way Jennifer was. The kids needed no encouragement to participate, shrieking with enthusiastic fright as the lights went out and monsters appeared, including malevolent mermaids, a many-horned "rhinoceroid," and an evil queen, who looked like a CEO with a sword. Jennifer's protagonist, a shipwrecked boy called Alex Caliban (Adam Peña), must battle the monsters and save a princess. In his quest, he illustrates the principles of drama for the audience, and his older self, played by Tor Hilhouse, even recites a portion of "The Tempest," seamlessly worked into the action.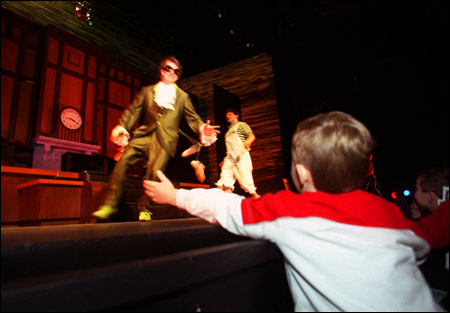 After the performance, students enjoyed a question-and-answer session with the seven young actors, all members of the A.R.T. Institute. The students seemed fascinated to have some of the artifice exposed for them, and focused on questions of character. "Are you really evil?" one asked the Evil Queen.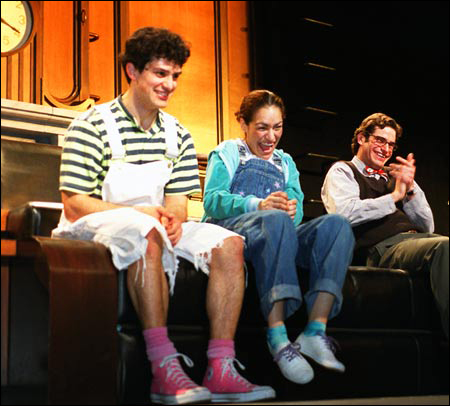 "Uhhhh…" Francesca Carlin pretended to consider the question as audience members laughed. "No," she said seriously. "Remember, there's a difference between the character and the actor."
"Did you really smoke?" probed another student, asking about the onstage event that had many of the children fanning their faces vigorously with programs.
"No, I don't smoke, personally. And I didn't inhale!" As the teachers' laughter subsided, Carlin added with some sternness, "The queen is evil, and does bad things. I do not encourage anyone to smoke. It's a bad, bad, evil habit!"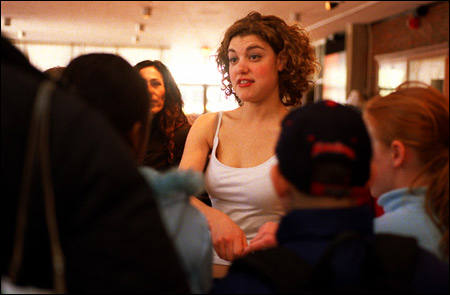 Among the children at Monday's performance was Luisa Shalhoub's fourth- and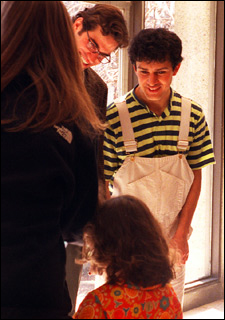 fifth-grade class from the Thomas Gardner School in Allston. Along with students from St. Anthony's School, they were some of the nearly 300 children from Allston-Brighton elementary schools who attended the play this year with sponsorship from Harvard's Office of Government, Community and Public Affairs. As the mother of actor Nicole Shalhoub, the 28-year veteran teacher was especially pleased to have her class in the audience. "They've really been looking forward to this. Many of these kids have never seen a play before," said Shalhoub, "and a lot of them don't speak much English. When we get back to the classroom, we'll have some new vocabulary."
Then Nicole Shalhoub came to exchange a hug and kiss with her mother and chat with the starstruck students. When asked what his favorite part was, Eduardo Alburez motioned enthusiastically with an imaginary sword. "The, um…." "Fencing," Mrs. Shalhoub supplied. "Yes, the fencing!" beamed Eduardo.