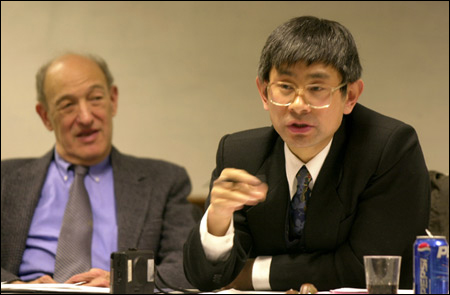 Taiwan's election has put the United States in the uncomfortable position of discouraging a growing democracy in order to keep relations with mainland China stable, according to Timothy Crawford, a professor of political science at Boston College.
Crawford was part of a panel discussion Thursday afternoon (March 18) on the possible outcomes and ramifications of Taiwan's March 20 presidential election. The event, "The Taiwan Straights Controversy on 'Duel' Levels: How Domestic Politics Influence Foreign Affairs," was sponsored by the Weatherhead Center for International Affairs.
Since the Chinese Nationalists left the mainland in 1949, driven out during China's communist revolution, Taiwan has maintained an uneasy relationship with
---
'Under the [Nationalist] Party, we always knew what Taiwan was going to do. We don't know that anymore.'
– Kerry Dumbaugh,
an analyst for U.S. Congressional Research Services
---
China, which sees it as a renegade province.
As long as both China's and Taiwan's governments have believed the two would one day reunite, the communist Chinese government has been content with the status quo, despite periodic saber rattling.
A growing independence movement under Taiwanese President Chen Shui-bian has riled relations across the Taiwanese Straight, however.
The United States has vowed to defend the island against Chinese aggression, putting it squarely atop the fence that divides its interest in promoting international democracy and its interest in good relations with China.
"Our president, pushing the spread of global democracy, is taking a contradictory stand," Crawford said. "Bush is in a tough situation. We're discouraging what we'd consider to be flowering democratic practices."
It is amidst that international backdrop that the Taiwanese election was held. Richard Sobel, an organizer of the event and author of three books on public opinion and foreign policy, said the multiple natures of the situation in Taiwan, where events are interpreted three different ways – in Taiwan, in Beijing, and in Washington – makes the region important to study.
"Obviously, it's a fascinating and important area of the world. Relations between China, Taiwan, and the U.S. are central to the current world situation," Sobel said.
Henry Ford II Research Professor of the Social Sciences Ezra Vogel, who moderated the event, said that Taiwan is caught in countervailing crosscurrents where economic pressures are drawing it closer to mainland China even as social trends push it away toward a dangerous independence.
Panelists discussed how the election would affect Taiwan's future, both at home and abroad. After Saturday's contest, however, won by incumbent Chen by a quarter of a percentage point, much uncertainty remains.
The election itself was marked by tumult. Chen and Vice President Annette Lu were shot by an unknown assailant on Friday, just a day before the polls opened. They were campaigning in Chen's hometown. Both were treated at a hospital and released.
Opposition candidate Lien Chan called for an immediate re-count after the election, threatening to keep his supporters marching in the streets until action was taken. The Taiwan stock market plunged 7 percent Monday in response to the uncertainty.
After initially resisting Lien's recount demands, Chen on Tuesday acquiesced.
Chen's re-election, if it stands, would keep Taiwan's independence-minded government in power and ensure Taiwan's place as a potential international flash point, panelists said.
Liu Jianfei, a senior visiting scholar at Harvard's Fairbank Center and a professor at China's Institute of International Strategic Studies at the Central Party School of the Communist Party of China (CPC), said China has its national credibility tied up in its position on Taiwan.
Jianfei said China is willing to be patient on the issue, however, quoting Deng Xiaoping as saying that if reunification between Taiwan and China doesn't happen in 100 years, it will happen in 1,000 years. He again quoted Deng, though, as saying that any Chinese leader who loses Taiwan by allowing the island to declare its independence would be looked at as a traitor to China.
On a more practical level, Jianfei said that Taiwan is important to Chinese security and that letting Taiwan go would be a blow to China's prestige, both internationally and at home. "Losing Taiwan says that the CPC doesn't have enough stability to govern China."
Hui-Wen Chen, a teaching fellow at Harvard Law School, said referendum questions on the ballot were the first referenda ever put before the Taiwanese. The questions, which didn't get enough responses to be valid, concerned the purchase of arms to deter Chinese aggression and asked whether Taiwan should negotiate with China in efforts to create a stable, peaceful relationship.
Though the referenda didn't pass, Chen said that China would do well to take seriously signals from the Taiwanese people about their future.
In the United States, silence on Taiwan has been largely due to the nation's attention being fixed on Iraq, Afghanistan, and al Qaeda, according to Kerry Dumbaugh, an analyst with the U.S. Congressional Research Services.
Dumbaugh described a "delicate balancing act" between lobbyists, Congress, and the administration over Taiwan. The Bush Administration has exerted a lot of influence, she said, to keep Taiwan from becoming another global hot spot to deal with.
"9/11 transformed U.S. foreign policy," Dumbaugh said. "China dropped out of sight…. Our attention has simply been diverted. China has not been at the top of our concern."
Taiwan, which lifted 38 years of martial law in 1987 and which had its first direct presidential election in 1996, has become increasingly democratic in recent decades. But democracy, which the United States supports as desirable, is also unpredictable, Dumbaugh said.
"Under the [Nationalist] Party, we always knew what Taiwan was going to do. We don't know that anymore," Dumbaugh said.