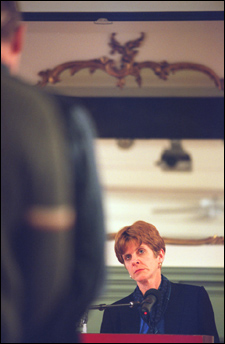 Louise Richardson, executive dean of the Radcliffe Institute for Advanced Study and an expert on international terrorism, opened Radcliffe's 2004 Voices of Public Intellectuals series on "Confronting Terrorism: Democracy's Response to the Terrorist Threat" Thursday (Feb. 26). In her lecture, "The Nature of the Terrorist Threat," she put terrorism in context, providing historical, psychological, religious, and international lessons from which the United States might learn.
Richard suggested that the United States borrow several tactics from other nations – including better intelligence and diplomatic policy that supports separating terrorists from their would-be followers with punishment and incentives – to fight the brand of terrorism that's arisen since 9/11. She also cautioned against framing terrorism in the language of warfare. "The threat we face is fundamentally a political and a psychological threat, not a military one, and can only be won on these terms," she said.
The "Confronting Terrorism" series continues today (March 4), when Wesleyan University professor of government Martha Crenshaw addresses "Why the United States Is Targeted by Terrorism." Mary Jo White, the former U.S. attorney who prosecuted the 1993 bombing of the World Trade Center and investigated the 9/11 bombings, concludes the series March 11 with "The Tension Between the War on Terrorism and Civil Liberties."
All lectures are at Cronkhite Graduate Center at 4 p.m. For more information, visit http://www.radcliffe.edu/vpi/2004/lectures.html.
By Beth Potier