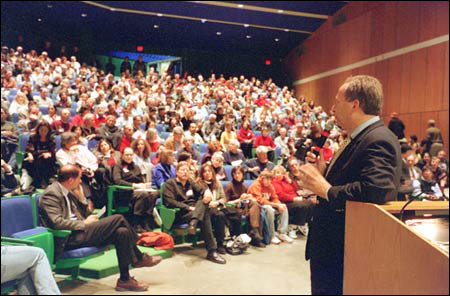 Harvard President Lawrence H. Summers flung Harvard's doors open even wider last week, outlining a new financial aid initiative intended as a clarion call to talented students from poor families and disadvantaged communities across the country.
The $2 million plan completely eliminates the need for families making $40,000 or less annually to contribute toward their child's Harvard College education.
---
Questions? Email Harvard College Financial Aid
---
The initiative, which was announced Saturday (Feb. 28), also lowers the contribution expected from families making between $40,000 and $60,000.
In addition to the financial aid boost, the initiative intensifies recruiting efforts aimed at talented youth from low- and middle-income families and incorporates the mentoring and development opportunities of a summer academy for disadvantaged students.
"We want to send the strongest possible message that Harvard is open to talented students from all economic backgrounds," Summers said. "Too often, outstanding students from families of modest means do not believe that college is an option for them – much less an Ivy League university."
Harvard has long had a need-blind admissions policy that ensures the University is affordable for any student qualified to attend. Students are chosen on the basis of their outstanding academic, extracurricular, and personal qualities, and on their promise for achievement in college and in life.
Access and affordability fact sheet 2003-04
Overview
Harvard College is the undergraduate component of Harvard University. It is fully residential and enrolls more than 6,600 students. The freshman class has 1,650 students.
Undergraduate admissions and financial aid
In the 2003-2004 academic year, almost 21,000 students applied for admission to Harvard College – more than 12 applicants for every place in the class. Of the number admitted to the Class of 2007, 78 percent chose to enroll.
Harvard considers students for admission without regard to their ability to pay, and guarantees to meet the full need of every student who qualifies for aid. All of Harvard's financial aid is need-based – it offers no merit or athletic scholarships.
This year, Harvard's tuition is $26,066. The total cost of attendance, including tuition, room, board, and other charges is $37,928. Two-thirds of Harvard undergraduates receive some form of financial aid, including scholarships, loans, and jobs. Under Harvard's recently enhanced financial aid program the total aid provided to undergraduates is just under $110 million this year.
Almost half, 48 percent, of Harvard undergraduates receive outright need-based scholarships, which, under recent financial aid initiatives, will total over $72.9 million in 2003-2004 – a 49 percent increase over the past six years.
Harvard provides almost 9 of every 10 (87 percent) scholarship dollars out of institutional funds. In fact, the amount of grant aid provided nationally by private colleges and universities from their funds is more than 30 percent greater than the amount of grant aid from all federal programs combined.
Harvard students who qualify for need-based scholarships receive average grants of $24,000. The average total aid package for 2003-2004 is more than $26,700 or roughly two-thirds of total costs.
Family contribution and loans
Harvard's financial aid policy is based on the premise that paying for college is a shared responsibility. The total cost of attendance for students with demonstrated need is met by combining resources from the College, in the form of scholarship aid, from families, and from students themselves, in the form of loans and work.
Harvard provides scholarship aid to students from a wide range of financial circumstances, and the amount of financial aid is based on a case-by-case assessment of a student's specific circumstances within the broader context of both federal and institutional policy guidelines. As Harvard's recent financial aid initiatives have demonstrated, it remains committed to the goal of providing all of its students from this wide range of family backgrounds with the necessary need-based assistance to make their college education both affordable and productive.
Approximately 50 percent of Harvard students graduate with some student loan debt. These students now typically borrow between $5,000 and $15,000 for their undergraduate education, although these figures continue to decline as a result of Harvard's recent increases in grant assistance that now make it possible for a student to graduate with little or no loan debt at all.
All students receive subsidy
Even students who do not qualify for need-based aid receive a substantial subsidy, or implicit scholarship, from the University, because the price charged covers only about two-thirds of the cost to Harvard of the education provided. The remaining third is paid for largely by endowments and gifts.
National statistics, however, indicate that family finances play a huge role in determining who attends college and who does not.
One 2004 study showed that just 20 percent of students whose families are in the bottom 25 percent of income attended a four-year college within two years of graduating high school. By contrast, 75 percent of children from families whose income is in the top 25 percent attended college.
At highly selective institutions like those in the Ivy League, the statistics are even worse. At the 146 most competitive and selective institutions, just 3 percent of students come from families whose incomes are in the lowest 25 percent, compared with 74 percent from families in the top quarter.
At Harvard today, the picture is slightly better, with 6.8 percent of students from the lowest income category versus 74 percent from the highest category.
"Our doors have long been open to talented students regardless of financial need, but many students simply do not know or believe this," Summers said. "We are determined to change both the perception and the reality."
The new program is just the latest in a series of commitments to financial aid in recent years. Harvard's scholarship programs have grown by nearly 50 percent over the past six years, to just under $80 million.
Today, about 48 percent of Harvard undergraduates receive scholarships that average close to $24,000 annually, and two-thirds of Harvard College students receive some form of financial aid.
The new initiative, which goes into effect in September, will affect 1,065 current undergraduates, 605 of whom come from families with incomes $40,000 and less. Those families' current contribution toward Harvard's $37,928 annual cost is $2,300.
"This new initiative will enhance our effectiveness in reaching out to students who have done remarkable things with their lives despite limited financial resources," said William C. Kirby, dean of the Faculty of Arts and Sciences.
The program was crafted after months of listening to the stories of students from low- and middle-income families. The message heard loud and clear was that finances figured highly in college attendance decisions, but that money wasn't the only hurdle. Harvard administrators also heard that Harvard's image as a place reserved for the wealthy and privileged is pervasive.
Students spoke about how they were discouraged from applying by parents afraid of the tuition bill, by guidance counselors certain of rejection, and by peers who said they wouldn't fit in.
The program was designed to punch through these persistent misperceptions and recognizes that students from low-income backgrounds face social hurdles, such as diminished expectations, as well as financial ones. By eliminating the family contribution, the program seeks to send an unmuddied message to parents, counselors, and prospective students that attending Harvard is an attainable goal.
"America cannot afford to waste the talents of so many promising students," Summers said. "We hope our new financial aid initiative will better inform students and families that all colleges are open and accessible to them, and that our recruitment succeeds in reaching more students of modest means."
The new initiative has four major components:
Financial aid: Beginning next year, parents in families with incomes of less than $40,000 will no longer be expected to contribute to the cost of attending Harvard for their children. In addition, Harvard will reduce the contributions expected of families with incomes between $40,000 and $60,000.
Recruiting: The College is intensifying its efforts to reach out to talented students across the nation who might not think of Harvard as an option. Harvard College is seeking to make sure students understand that Harvard has a long-standing commitment to enrolling students from a wide range of backgrounds and regardless of financial circumstances.
Admissions: Harvard is re-emphasizing, in the context of its highly personalized admissions process, the policy of taking note of applicants who have remarkable accomplishments despite limited resources at home or in their local schools and communities.
Pipeline: Harvard recently announced the establishment of an intensive summer program – the Crimson Summer Academy – for academically talented high school students from financially disadvantaged backgrounds in the Greater Boston area. Each student will participate for three successive summers, beginning after ninth grade, receiving encouragement and preparation to attend a challenging four-year college or university.