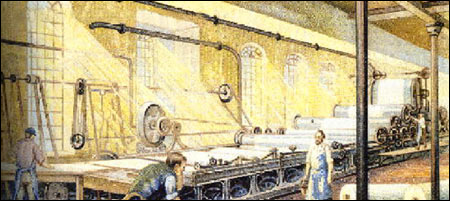 John Bidwell will present the Philip and Frances Hofer Lecture "Industrial Hubris: A Revisionist History of the Papermaking Machine" today (March 25) at 5:30 p.m. in the Edison and Newman Room, Houghton Library. Bidwell, Astor Curator of Printed Books and Bindings at The Morgan Library, will discuss London stationers Henry and Sealy Fourdrinier, who between 1801 and 1810 developed the first workable papermaking machine. Although they are admired for their achievements, historians question the Fourdrinier's methods, which were often fraudulent. Bidwell will reveal their corrupt business practices and show how their dishonest designs in part caused the spread of machine technology both in Britain and America.
Bidwell is the newly elected president of the Bibliographical Society of America, having previously chaired its Publications Committee. He holds a D.Phil. from the University of Oxford, and recently published the book "Fine Papers at the Oxford University Press" (Andoversford: The Whittington Press). He regularly teaches a class at the University of Virginia Rare Book School titled "History of European and American Papermaking."
The lecture is part of the Philip and Frances Hofer Lecture series, presenting subjects of special interest to Harvard students and scholars within the range of the Printing and Graphic Arts. Philip Hofer '21, L.H.D. '67, is the founder and first Curator of the Department of Printing and Graphic Arts, and his interests – in the history of book illustration and the development of letter forms, both printed and written – still inform the nature of the collection today.