Nigerian AIDS activist Yinka Jegede-Ekpe said that the HIV/AIDS epidemic will never be solved until women are seen as equal partners. She spoke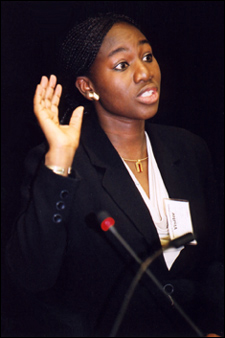 to an audience in Snyder Auditorium at the Harvard School of Public Health on March 9, one day after being named a recipient of a 2004 Reebok Human Rights Award. The award, provided by the Reebok Human Rights Foundation, will be presented at a ceremony on May 5 at Lincoln Center in New York City.
Established in 1988, the Reebok Human Rights Award honors activists 30 years old or younger who, often at great personal risk, have made significant contributions to the field of human rights through nonviolent means. The 2004 recipients each received a $50,000 grant from the Reebok Human Rights Foundation.
Diagnosed with HIV as a 19-year-old nursing student, Jegede-Ekpe went public with her HIV diagnosis in 1997. Since then, she has founded two organizations for people with HIV – one particularly for women – and helped to formulate Nigeria's HIV/AIDS policies by serving on the National Action Committee on AIDS.
The AIDS prevalence rate in Nigeria is nearly 6 percent of the population, affecting 7 million people. With 120 million people, Nigeria is Africa's most populous country.
By Carisa Cunningham