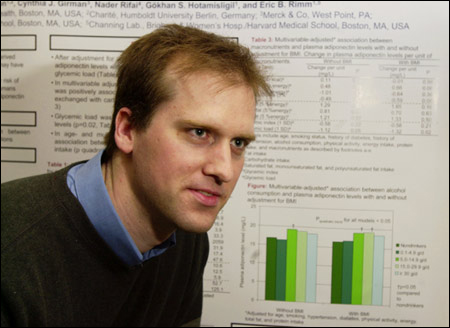 Harvard researchers have identified a hormone produced by fat cells as a possible link between the foods and drinks we consume and the health of our hearts.
It has long been observed that drinking moderate amounts of alcohol has a beneficial effect on the heart. It's also been found that eating lots of refined carbohydrates – such as processed sugar, white rice, and white breads – is linked to higher rates of coronary heart disease.
Harvard researchers, in a study of 532 men, found that levels of alcohol and refined carbohydrates are related to levels of the hormone adiponectin. Adiponectin, discovered in 1995, is produced by fat cells and has been found in animal studies to improve sensitivity to insulin and to protect animals from atherosclerosis, or hardening of the arteries.
Tobias Pischon, a research associate at the Harvard School of Public Health, said the study showed that people who drank moderate levels of alcohol had the highest levels of adiponectin.
Conversely, the study also showed that consumption of higher amounts of refined carbohydrates, which are rapidly broken down by the body and result in a rapid increase in glucose and insulin levels – what scientists call a high "glycemic load," – resulted in lower levels of adiponectin.
"People who have higher dietary glycemic loads have significantly lower adiponectin levels," Pischon said. "Previous studies have shown that a diet with a high glycemic load is a risk factor for coronary heart disease."
Researchers controlled the study for lifestyle differences, such as nutrition, activity, age, weight, and height to isolate the effects of other factors.
Pischon's research was conducted with Nader Rifai, associate professor of pathology at Harvard Medical School; Gokhan S. Hotamisligil, the James Stevens Simmons Professor of Genetics and Metabolism at the School of Public Health; Eric B. Rimm, associate professor of epidemiology and nutrition at the School of Public Health; and Cynthia J. Girman from Merck Research Laboratories.
The research was presented March 5 at the American Heart Association's 44th Annual Conference on Cardiovascular Disease Epidemiology and Prevention in San Francisco.
Pischon said the study examined adiponectin levels in blood samples taken in 1994 as part of a large cohort study begun in 1986 that had more than 50,000 participants. The blood was originally stored in freezers and was analyzed at Children's Hospital last year, Pischon said.
Though Pischon's study has shown that adiponectin levels rise with moderate drinking and fall in diets high in refined carbohydrates, the study doesn't prove that adiponectin is the reason that moderate drinking is good for the heart and that refined carbohydrates are not. That will have to be determined in further studies, Pischon said.
Pischon said next up would be to do a similar analysis on adiponectin levels in women and then begin examining lifestyle factors, such as exercise, that have been linked to heart health.