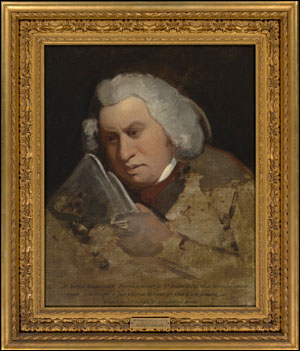 At Houghton – the doctor is in
Samuel Johnson, creator of "A dictionary of the English language," is one of the most quoted of English writers, second only to Shakespeare; and the latter part of the 18th century is often called, simply, the Age of Johnson.
Johnson undertook his greatest work, the creation of the first modern English dictionary, with only six copyists to assist him, books borrowed from friends and libraries, and a terrifying pattern set by Italian and French scholars who took 20 and 55 years, respectively, to complete national dictionaries.
Inspired by words like "impossible" since childhood, Johnson signed a contract with a group of publishers who would underwrite the project and in only nine years he completed "A dictionary of the English language." Johnson scoured books marking words and example sentences, while his copyists wrote out sentences on slips of paper, underlined the word being illustrated, marked the slip with a large letter for the initial of the word, and filed it. Johnson wrote definitions for over 40,000 words, many of which are still echoed in current dictionaries, and illustrated the meanings with quotations that he had gathered. The great resource, published in 1755, earned Johnson an honorary master of arts degree from Oxford. Many aspects of Johnson's dictionary are still used today, such as example sentences, parts of speech, and etymology.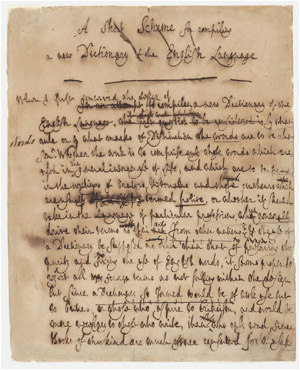 Samuel Johnson's dictionary definition might have been written to describe Mary, Viscountess Eccles (1912-2003). Her bequest of the Donald and Mary Hyde Collection of Dr. Samuel Johnson, considered one of the world's most important privately held collections of 18th century English literature, to Harvard University's Houghton Library is a defining act of generosity not only to Harvard, but to the world of scholarship in which she was both participant and patron. In addition to the collection, Mary Eccles made a substantial gift to endow the position of curator of the Hyde Collection and to fund acquisitions to ensure the growth of the collection and support 18th century studies in the scholarly world.
"The Hyde Collection is one of incomparable rarity and coherence," said William P. Stoneman, Florence Fearrington Librarian of Houghton Library. "This bequest has established a scholarly resource of international importance at Harvard, and generations of students and scholars worldwide will be grateful for the wisdom and generosity of Mary Hyde Eccles."
Assembled over a 60-year period, the Hyde Collection, with Johnson at its center, encompasses letters, manuscripts, first editions, portraits, and even his silver teapot. It includes half of Johnson's surviving letters; several drafts of his "Plan for a Dictionary" and the few surviving manuscript entries; and is comprehensive in its coverage of Johnson's published works. Comparable riches document his lively biographer, James Boswell (including corrected proofs for the "Life of Johnson"); his great friend Hester Thrale Piozzi; their families; and such friends and contemporaries as Tobias Smollett, Sir Joshua Reynolds, Alexander Pope, and David Garrick. With more than 4,000 volumes, approximately 5,500 letters and manuscripts, and more than 5,000 prints, drawings, and objects, it paints a broad yet detailed picture of 18th century English literature and culture.
"This bequest is a boon to anyone interested in Samuel Johnson, his circle, and his era. Such collections are as close as we can get to the unmediated presence of the past. They are invaluable for teaching and research," said James Engell, Gurney Professor of English Literature and Professor of Comparative Literature at Harvard University.
Mary Hyde Eccles was no less remarkable than the collection she created. She began the collection in collaboration with her first husband, Donald Hyde, in the 1940s. Their acquisition of the great R.B. Adam Johnson collection in 1948 put them into the first rank of American collectors. After Donald Hyde's sudden death in 1966, she continued, with quiet determination, to mold the collection into an indispensable resource for any scholar studying the Age of Johnson. She was among the first women elected to the bibliophile's Grolier Club in America, and the first woman elected to the Roxburghe Club in Great Britain.
Not content with simply collecting Johnson and his circle, she wrote about them as well. Her books include "The Impossible Friendship: Boswell and Mrs. Thrale" and "The Thrales of Streatham Park."
The Donald and Mary Hyde Collection of Dr. Samuel Johnson will be housed in Houghton's Donald Hyde Rooms. Scholars will be able to access the collection within the next two years.