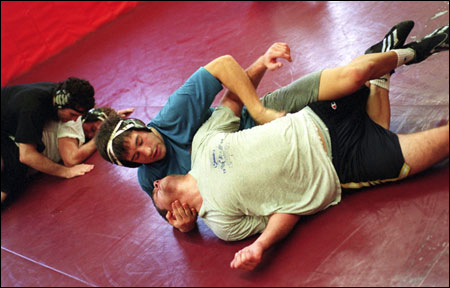 Senior wrestler Jesse Jantzen brought home Harvard's first national championship in 66 years with an impressive 9-3 win against Oklahoma State's Zach Esposito this past Saturday (March 20) in St. Louis. John Harkness '38, who was actually on hand to cheer on Jantzen, was the last Crimson grappler to capture the national title – back in 1938.
Seeded No. 1 at 149 pounds, Jantzen notched two points on a takedown just seconds into the match, before extending his lead to 5-0 by the end of the first frame. Playing the aggressor early on, Jantzen continued to pick up points with a second takedown and an escape, and added another point with three minutes of riding time on his way to the win. Jantzen, who finished third in his last two NCAA Tournament appearances, was also named the meet's Most Outstanding Wrestler.
The Crimson wrestler ends his season with a 38-1 record, though his lone loss ought to be accompanied with an asterisk, as it came when Jantzen wrestled up to the next weight class (157 pounds) at the Cliff Keen Invitational in Las Vegas this past December.