The Harvard men's and women's hockey teams both managed impressive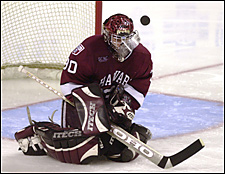 series sweeps in ECAC quarterfinal action this past Saturday (March 13), albeit in dramatically different ways. It took the Crimson men a come-from-behind win in overtime to dismiss favored host Brown, 3-2, in the teams' second match-up (Harvard took the first, 4-2, on March 12), while the women – ranked second in the nation – advanced to the semifinals with a 4-1 win over Cornell. A day earlier, Harvard delivered the visiting Big Red a 9-1 drubbing in game one.
Just starting to really click (and just in time), the men's team has now won five in a row for the first time in 10 years. What's more, icers from both Harvard squads just garnered ECAC Player of the Week status: center Tom Cavanagh '05 for his game-winning goal against the Bears, and Nicole Corriero '05, who netted four goals and four assists in the Cornell series.
Next up, the No. 3-seeded Harvard men play No. 2 Dartmouth on Friday (March 19) at 7:45 p.m. in the second semifinal at the Pepsi Arena in Albany, N.Y. The winner will take on either Clarkson or Colgate in the championship game on Saturday (March 20) at 8 p.m. Both the semis and finals will be broadcast live on CN8.
In women's action, the Crimson take on Brown in Schenectady, N.Y., on Saturday (March 20) at 1 p.m., to be followed by St. Lawrence vs. Dartmouth in the day's other semi. The winners of both matches will square off for the ECAC Championship on Sunday (March 21) at noon. Saturday's game will be carried live on Empire Sports, CN8, and Cox. Check http://www.gocrimson.com for updates.
By Andrew Brooks