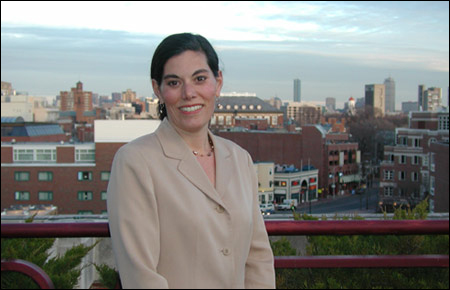 Suzanne J. Battit, M.B.A. '92, has been appointed executive director of the Harvard College Fund (HCF).
As HCF executive director, Battit will be responsible for all management and strategy related to Faculty of Arts and Sciences (FAS) reunion and annual giving. She will report to Scott Abell, the new associate vice president and dean for Development for FAS.
Battit was most recently responsible for developing a business plan for a start-up venture, and identified and analyzed companies for future partnerships at Churchill Road Associates. Before that, she was senior vice president and director of marketing strategy for Putnam Investments. She graduated cum laude from Colby College with a bachelor of arts in mathematics and then earned an M.B.A. from Harvard Business School (HBS). While at HBS, she participated on the women's crew.
"Harvard will benefit greatly from Suzanne's experience in leading major initiatives and cultivating successful client relationships," said Donella M. Rapier, vice president for Alumni Affairs and Development.
Last year, the Harvard College Fund raised $71 million from 34,915 alumni. Reunion giving, the cornerstone of the fund, was impressive, with two classes having established new reunion records: The Class of 1988 set a new dollar record for a 15th reunion, raising $3,926,250, and the Class of 1938 set a new participation record, with 88.5 percent of the class making a gift. The Class of 2003's Senior Gift also established a new record, with 72 percent of the class making a gift.
The mission of the Harvard College Fund is to secure from alumni and friends the resources needed by Harvard College to sustain its commitment to excellence in teaching, learning, and research. The College uses these resources to bring the most promising young people in the world together as students; create an environment in which the transforming spirit of discovery can flourish; and prepare Harvard graduates for a lifetime of contribution to society.