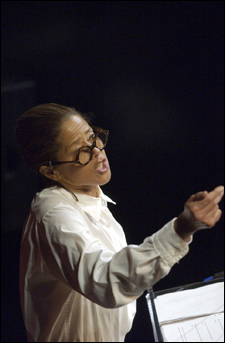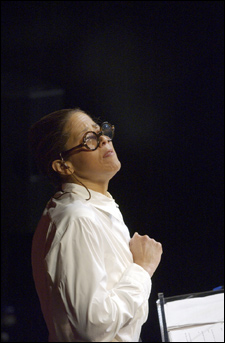 Who is a citizen? Is citizenship guaranteed by a passport? Can we create citizenship with our own narratives? What is citizenship to a refugee, an immigrant, a slave, an exile, a president, a Jew in the Middle East or an Arab in Israel?
A Radcliffe Institute for Advanced Study conference, "Cultural Citizenship: Varieties of Belonging," probed these questions last week (Feb. 19 and 20), generating few answers but lots of spirited discussion. Mirroring Radcliffe's multidisciplinary approach to advanced scholarship, the conference gathered academics and artists from Harvard and beyond to examine issues of belonging and citizenship from a variety of perspectives.
Actress, playwright, and former Bunting Institute fellow Anna Deavere Smith embodied a wide range of perspectives in her one-woman performance Thursday evening (Feb. 19). Smith presented a collage of characters drawn from several of her plays, including the Obie Award-winning "Twilight: Los Angeles, 1992," about the violent aftermath of the Rodney King verdict.
On a nearly bare stage, her only props a wine glass, coffee cup, and cigarette, Smith inhabited the words and characters of Margaret Mead and James Baldwin, a Monticello tour guide who offered cheery justification for Thomas Jefferson's slave-holding, a juror on the Rodney King trial, and, to fits of appreciative laughter, fellow "Cultural Citizenship" panelist Homi Bhabha, the Rothenberg Professor of English and American Literature at Harvard.
"I interview people and then I say what they say, word for word," Smith told the audience as she introduced her vignettes. By exploring a subject through a variety of viewpoints – slavery as seen by the Monticello guide, and filmmaker Ken Burns, and a discussion about Jefferson's relationship with slave Sally Hemings, for instance; or justice from the viewpoint of the frustrated juror and an embittered Korean shop-owner in Los Angeles – Smith created what she called "the healthy and robust arguments" that are required for cultural citizenry.
"I used to believe America was the best. I still do," she said in the persona of Mrs. Young Soon Han, a Korean liquor store owner from "Twilight: Los Angeles." But following the Rodney King verdict and the ensuing violence, she continued, "I began to realize that Koreans are completely left out of this society and we are nothing. Why? Why do we have to be left out?"
Smith re-created a heated discussion between white anthropologist Margaret Mead and black author James Baldwin, drawn not from her own interviews but from a recorded dialogue between the two called "A Rap on Race." The globe-trotting Mead, at home anywhere, says she is not an exile; Baldwin says he is in exile, at home nowhere.
"I think we need more of that hollering and screaming," said Smith of their argument, which she portrayed with pitch-perfect shifts in the accents, vocal qualities, and mannerisms of the two. "We need more passion to have real cultural citizenship."
The concrete and the ineffable
The following day's panels began not with hollering and screaming, but rather with intellectual rapport between two friends and colleagues on opposite sides of citizenship in one of the world's most volatile cultural hot spots. Avishai Margalit, professor of philosophy at the Hebrew University of Jerusalem, and Sari Nusseibeh, president of al-Quds University, the Arab University of Jerusalem, brought civility and emotional weight to the divisive issue of citizenship and belonging in the Middle East.
Harvard Law School professor Martha Minow introduced and moderated a panel on the desire for citizenship and the presentation of self. "Desire, feeling, identity, exclusion, degradation, love, hate, otherness: How does the language of emotion intersect with legal and political provisions of citizenship?" asked Minow, who is the Bloomberg Professor of Law.
Human rights lawyer Jacqueline Bhabha, executive director of the University Committee on Human Rights Studies at Harvard, cautioned that her thoughts on the subject might seem crude and reductive compared with some other highly nuanced discussions at the conference. That's because for the refugees Bhabha encounters in her work – the millions of people who cross borders in hopes of improving their lives – the desire for citizenship among is fairly concrete. It's the desire to get from here to there, from a life of poverty or danger or oppression to a better one. It's the quest, often arduous, for the liberating legal piece of paper.
"Without papers, you just don't exist," she said, quoting an undocumented Salvadoran refugee.
Still, Bhabha acknowledged the less concrete desire for citizenship expressed in a struggle for belonging, especially for those who are "here and there at the same time," she said: those for whom home is not where the family is, whose hyphenated identities signal a more complex struggle for citizenship.
"The desire for citizenship is both concrete and ineffable," she said. "It requires very material objects to be achieved, and yet it demands the articulation of a persuasive narrative which is a complicated construct that has to be learned."
Citizen as storyteller
Writer and former Radcliffe Institute fellow Gish Jen, who has written about the experience of Chinese Americans in her novels and stories, further explored themes of narrative and storytelling in constructing citizenship. The true stories of citizenship and immigration, she said, are often buried beneath the created narratives that make for what she called better "flap copy."
"The savvy storyteller quickly becomes aware that he or she is in a competitive market, and that high concept is good, dramatic is good, historically significant is good, playing to your audience is good," she said.
While such reinvention can be folly – her mother tells of women (not herself, of course) who shave a few years off their ages when entering new nations – it can also get internalized. The stories that make one more real as a citizen may make one less real as the self.
Jen argued that the creative arts can help new citizens balance their stories with their realities. The arts "allow people both to know themselves and to be known in a way that the political and legal realms cannot," she said. "This is the realm in which citizens can reclaim the felt experiences they edited out or in other ways lost along the way."