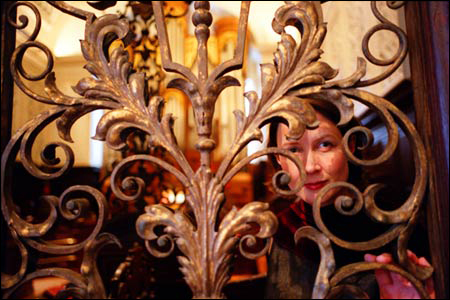 Photo by Kris Snibbe
Describing mezzo-soprano Carolann Buff as a singer hardly does justice to the many roles she juggles. In addition to the duties that fall to any professional musician – balancing budgets, managing publicity, coordinating recording sessions – she spends plenty of her "free" time doing research in Loeb Music Library, where she works part time as a staff assistant. That's because Buff's musical passion is what's called "historically informed performance" of the vocal music of the medieval and Renaissance periods. Since 1996, she and two former classmates from the nearby Longy School of Music have brought early music to audiences around the world as the vocal trio Liber unUsualis.
"Historical performance is really attractive to me because it's both history and music together," says Buff, who majored in both subjects as an undergraduate before pursuing the master of music degree. In historically informed performance, she says, "you look not only at the notes on the page, but context, and performance styles, and … the world … a musician of the 14th century lived in." For whom was the piece written? How was it performed? What cultural or religious ideals dominated the time period? Buff and her musical collaborators – soprano Melanie Germond and tenor William Hudson – research and write extensive program notes to help this centuries-old music, with its unfamiliar tunings and texts in languages no longer spoken, resonate with modern audiences.
Liber unUsualis clearly connects with its listeners. The ensemble – its name is a play on "Liber Usualis," a common book of Latin chants – maintains a demanding performance schedule of several concerts each month and has captured the acclaim of critics and prize committees worldwide. The trio's second CD, recorded in France during last summer's heat wave, is due out this year. And Buff relates with glee how Liber unUsualis has won over audiences completely unfamiliar with the complexity and intellectualism of early music. She attributes that to the trio's unswerving commitment to balancing the rigor of their research and preparation with performances that soar with a mysterious beauty.
"People's reactions are so wonderful … they walk away saying, 'Wow, that was really beautiful, or intense, or really stirred me up and made me feel triumphant,'" says Buff. "The musical performance for the modern listener is our goal. All of the other things that we do – tuning, rehearsing, voice lessons, anything to make it successful – are just a foundation. Ultimately it comes to walking out on stage and presenting it for our audience."