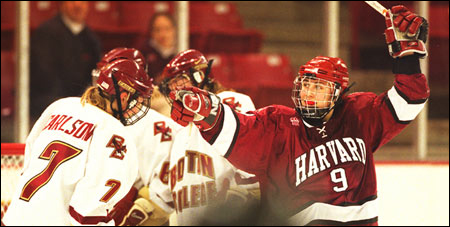 A tenacious Harvard women's hockey team tuckered out Boston College, 4-0, in the semifinal round of the 26th annual Beanpot Tournament this past Tuesday evening (Feb. 3) in Chestnut Hill. The Crimson, who endured a career-high 59 saves by B.C. netminder Lisa Davis, blasted the net 63 times (to the Eagle's eight) en route to the win.
No. 2 Harvard will look to protect the 'Pot – and extend its reign to six straight – against Northeastern (8-0 winners over Boston University in the opening game) in the tourney's championship showdown next Tuesday (Feb. 10) at B.C.'s Kelley Rink. Faceoff is set for 8 p.m.
Against the Eagles, the Crimson attacked the net from the get-go, firing 23 shots in the first period alone. Harvard eventually found a break with 2:05 remaining in the opening period, when forward Lauren McAuliffe '04, who collected two points and two assists on the evening, tipped in a Davis deflection for the go-ahead goal.
B.C. continued to blockade the Crimson in the second stanza, as Davis denied 18 shots through nearly 18 minutes of hockey. That is, until forward Nicole Corriero '05 found the back of the net on a loose puck from outside the crease to give Harvard a 2-0 cushion to close out the middle period.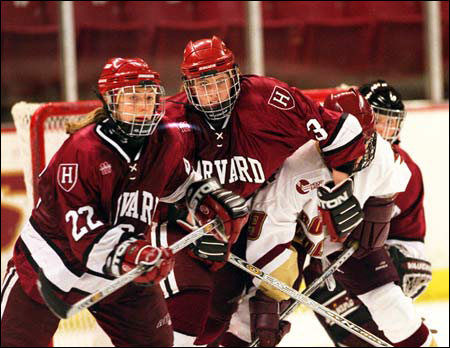 Corriero added an assist in the early going of the third period when she fed McAuliffe, who navigated the puck inside the left post, on the power play. Less than two minutes later, Corriero tallied her second goal of the game – and 25th of the season – to give Harvard the 4-0 advantage. Teammates McAuliffe and Julie Chu '06 earned the assist.
In the cage, freshman Emily Vitt had eight stops for the Crimson to secure her fifth win (and third shutout) of her collegiate career.
Harvard, which improves to 15-2-1 (2-2-0 Ivy) with the win, visits Colgate and Cornell this weekend before wrapping up Beanpot play early next week. The Crimson tangle with the Raiders on Friday (Feb. 6) at 7 p.m. before heading to Ithaca to face the Big Red on Saturday (Feb. 7) at 4 p.m.