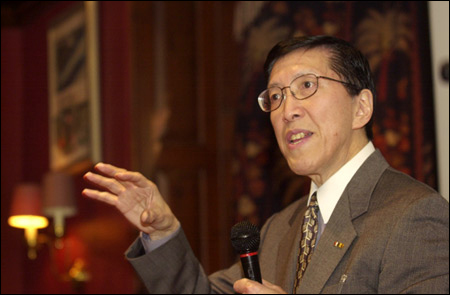 A stroll through Harvard Yard immediately reveals the rich diversity of the University. Passersby – students, faculty, and staff – reflect a dizzying range of cultures, races, and ethnicities. Posters around campus reinforce this proud multiculturalism with events and services – from a South Indian dance performance to an informational meeting for black scientists to a support group for gay, lesbian, bisexual, and transgender students.
But when it comes to ensuring the mental health of a diverse community, Harvard – like many institutions and caregivers – may be missing opportunities to serve
---
See the full schedule of
Caring for the Harvard Community events
---
its population in the best possible way, said multicultural scholar Derald Sue at the keynote lecture of Caring for the Harvard Community, a series of workshops and discussions aimed at connecting the entire University community with strategies and resources for mental health care.
In his Feb. 23 talk, Sue, professor of psychology and education at Teachers College, Columbia University, and a former adviser to President Clinton's Race Advisory Board, drew from his research as well as personal experience to show how mental health services can better reach some clients who are racial and ethnic minorities. Research shows that racial and ethnic minorities in the United States underutilize traditional mental health services, said Sue, citing a major study done by his brother in the state of Washington. The study found that Asian Americans, blacks, Latinos, and Native Americans sought mental health services less frequently than whites, and those who did go for counseling terminated therapy after one session at a much higher rate than whites.
Sue followed his brother's research with his own, studying utilization patterns of mental health services among ethnic groups at the University of California, Berkeley, where he was teaching. What, he wondered, are the cultural, social, and political issues that affect racial and ethnic minorities' ability to seek help from mental health providers?
Culture-bound differences – "cultural differences in worldview that make people perceive mental health, mental illness, helping relationships in a different way" – account in part for some minorities' underutilization of mental health services, according to Sue. He cited what he termed the collectivistic identity of some Asian Americans, as well as some blacks and Latinos, as one such cultural barrier to seeking help. For these persons, the family, rather than the individual, may be the psychosocial unit of operation; as such, when some Asians or other minorities seek psychological help, it often can be perceived as stigmatizing their families as well as the individual. "It brings shame and disgrace to the family," said Sue, who is Chinese American. "Among traditional Asians, whatever you do as an individual reflects upon the family constellation," he said.
In addition, some racial and ethnic minorities may have cultural views of helping and advice that fall outside the traditional Western ethics of therapy and mental health care, he said. The common model of care for a therapist demands a professional distance that may feel uncomfortable to, for instance, a black student accustomed to turning to a different trusted friend, clergy, or family member for help.
"We have to begin to think about the development of culturally appropriate services" if we are to optimally address the mental health concerns of a diverse population, said Sue.
Basic cultural understanding marks a strong first step, he said. Caregivers must examine their own hidden prejudices and biases – we've all got them, he said – and work to overcome them to gain the client's trust.
Comprehending the different worldviews of people with heritages and ethnicities other than one's own is similarly crucial to breaking down perceived barriers between clients and mental health caregivers. For example, Sue said, there has never been a time when he did not think of himself as Chinese American. Yet "my colleagues don't get up in the morning and look in the mirror and say, 'Gee, I'm white,'" he said, calling the worldview of white Americans "the default standard." Further, he said, caregivers must understand that the history of racial and ethnic minorities in America is one of oppression, from slavery to the Trail of Tears to the internment of Japanese Americans. Few ethnic or racial minorities are completely free from this legacy of oppression, he said.
Acknowledging the difficulty of such frank talk about racial and ethnic differences, Sue also claimed that institutional culture can contribute to difficulties minority students face. Universities, he said, despite admirable strides, can be perceived by some racial minorities as subtly signaling, "you don't belong."
"It is equally important to direct our energies towards changing these institutions," he said.
As a student death darkened the opening of Caring for the Harvard Community, Sue changed the direction of his talk, abandoning his PowerPoint presentation and speaking extemporaneously in response to feedback he'd had in earlier meetings with University Health Service providers and Harvard deans.
Provost Steven Hyman, whose office sponsors Caring for the Harvard Community, said in his introduction, "These events remind us of the extraordinary importance of reflecting on issues of how we live together, on stress, on mental health issues."
Caring for the Harvard Community continues with private events in all undergraduate houses and dorms, as well as discussions for graduate students, faculty, and staff. This year's Caring events, which run through March 5, are focused on the theme of "A World of Well-Being: Focus on Emotional and Behavioral Health in a Community of Many Cultures."