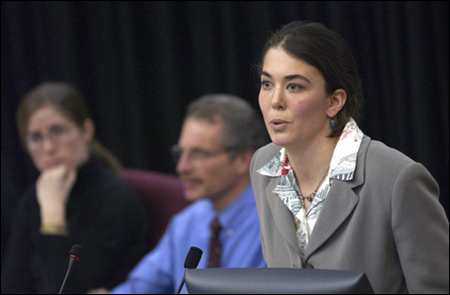 Hundreds of college students from around the Northeast descended on Harvard last weekend for the Northeast Climate Conference, an event designed to educate students and inspire them to action.
The conference featured a wide variety of discussions and workshops – from educational presentations on the status of the environment to hands-on workshops on how to energize campaigns on campus and at state legislatures.
The students even took the time Saturday afternoon to arrange themselves on the lawn in front of the Science Center into the letters spelling out the words "clean energy." Harvard's coordinator for the event, Allison Rogers '04, said photos of the students and their message would be sent to college presidents in an effort to gain support for clean energy programs on campus.
"The message specifically was targeted to clean energy [as it relates to] climate change," Rogers said.
Rogers said this was the second Northeast Climate Conference, following one last year at Yale. The event was co-sponsored by the Harvard Environmental Action Committee and the Climate Campaign, a network of student groups from college and university campuses across the Northeast.
The weekend kicked off Friday afternoon with a series of presentations at the Harvard School of Public Health that described the overall problem of climate change and painted a picture of Harvard's effort to combat it.
Paul Epstein, associate director of the Center for Health and the Global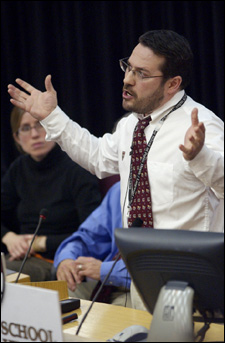 Environment at Harvard Medical School, laid the blame for climate change on humankind's thirst for fossil fuels. Waste from those fuels includes greenhouse gases that trap heat that would otherwise radiate into space.
Ironically, Epstein said, the globe's warming may lead to a cold spell, at least for the northern Atlantic region. As the world warms, glaciers and polar ice melt, sending a flood of freshwater into the northern oceans. That fresh water, which is lighter than the seawater, sits on top of the ocean and slows age-old currents that bring warmth up from the south.
There are some indications, Epstein said, that those warm currents can fail, which would cause the northern regions to cool.
In addition to the potential for ushering in a new frosty spell, Epstein listed other climate-related ills, including extreme events in recent years, such as last summer's killer heat wave in Europe, this winter's snows in Rome, Egypt, and Syria, and droughts and floods in India.
Global warming could lead to expanded health threats from tropical diseases, as vectors such as mosquitoes bring malaria to historically cooler climates.
Other speakers Friday outlined efforts at Harvard to address the problem of climate change. Daniel Beaudoin, the School of Public Health's manager of operations, spoke about his own conversion to clean energy during the renovation project at Landmark Center. He said he was at first reluctant to consider green or renewable technology and then, after investigating it, became a convert.
"I was totally opposed to it. What we had worked. We knew it. We knew how to maintain it," Beaudoin said.
Beaudoin said he attended a workshop on green building technologies with the preconceived notion that green building technologies were expensive and wouldn't last. He came out converted.
"I went there and walked out wearing sandals," Beaudoin said.
Other events over the course of the weekend included a keynote address by Sierra Club of Canada President Elizabeth May, workshops on organizing clean energy campaigns on campus, on how to get the message to politicians, and on getting media attention, among many others.
"The hope is to get continuing conversations going involving these students," Rogers said.