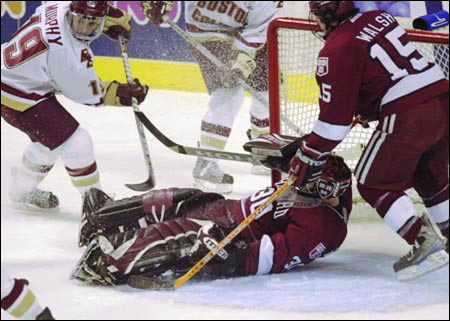 In the marquee game of the 52nd annual Beanpot Tournament this past Monday night (Feb. 2) at the FleetCenter, the Harvard men's hockey team quickly found itself embroiled in a comedy of errors. Against the No. 2 Boston College Eagles, the Crimson – appearing a bit rusty after exam period – were outshot, outplayed, and just plain unlucky.
Down 2-0 following a pair of bizarre B.C. goals after the first 20 minutes, the early deficit proved too much for the Harvard icemen to overcome, as the Eagles soared to a 4-1 victory.
And, though the Crimson made a contest of it when forward Charlie Johnson '06 scored on a power play with 1:49 remaining in the second stanza to cut the lead to 3-1, poor execution – including a botched 5-3 man-advantage opportunity in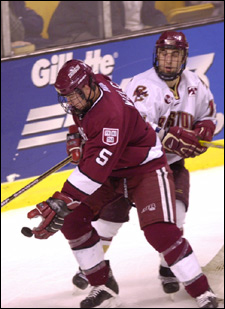 the final period – ultimately closed the lid on the Crimson's Beanpot aspirations. After B.C. added an insurance goal in the final period, the lid was sealed shut.
Things got weird early and often for the Crimson. Just 12 seconds into the opening period, Harvard defender Noah Welch '05 was sent to the box for roughing. And though the Crimson withstood the two full minutes down a man, Harvard soon became its own worst enemy at the 15:35 mark of the first period.
After intercepting a behind-the-net feed from B.C.'s Patrick Eaves, Harvard forward Tom Cavanagh '05 – standing just on the edge of the crease – knocked the puck squarely into his own net to give the Eagles the go-ahead goal. Seven minutes later, Harvard netminder Dov Grumet-Morris '05 (eight saves) got another dose of the Twilight Zone as B.C. notched its second freak goal to pull ahead 2-0. This time, Eagle Ned Havern's hard slap shot ricocheted off the glass behind the cage, hit Grumet-Morris in the back, and casually skidded into the net.
Harvard picked up its play in the latter part of the game, matching B.C. shot-for-shot in the third set with 11, yet failed to capitalize on seven of their eight power-play opportunities. Finland native Matti Kaltiainen was outstanding between the pipes for the Eagles, recording 19 saves in 60 minutes of action, though Harvard sophomore John Daigneau, who replaced Grumet-Morris when B.C. took a 3-0 lead three minutes into the second period, was no slouch either. The Wisconsin product tallied 18 saves in a period and a half.
With the loss, Harvard falls to 8-11-2, extending its title-less streak to a school-record 11 years. The Crimson next face Yale this Friday (Feb. 6), before taking on Northeastern (who fell to Boston University, 5-2, in the tourney's other semifinal match-up) in the Beanpot consolation game next Monday (Feb. 9) at 5 p.m. Meanwhile, B.C. will look to steal the 'Pot from the reigning champion BU Terriers.