Care to tell singer-songwriter Livingston Taylor anything about the art of performing? I wouldn't. After all, he wrote the book. His "Stage Performance"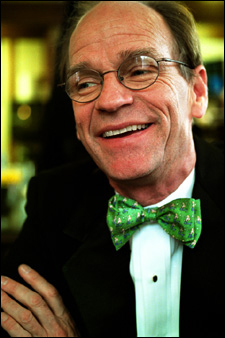 (2000) is both a bible for the stagestruck and a blueprint for why the 30-year music veteran was hailed "the ultimate crowd pleaser" by Performing Songwriter Magazine. On Feb. 24, when he gives a concert at the Memorial Church, he aims to do more than tantalize his audience. The proceeds from his performance will benefit the Grants Program of the Memorial Church, which every year supports underfunded charities in the local community.
Tracked down via his cell phone while he checked roughs of a new recording, Taylor, who'll be providing his services gratis, says, "It's my way of supporting parts of Harvard."
Artist-in-residence at Lowell House for the past four years, Taylor also teaches stage performance at Berklee College of Music and typically spends two days a week touring. In between, he's recently been sandwiching trips to Nashville where he's recording his 15th album.
In his capacity as artist-in-residence, Taylor gives seminars, teaches guitar, and is more than happy to pass on the fruits of his long experience to interested students. In return, Taylor says, his involvement with Harvard has produced undreamed-of dividends.
"Since being here I've experienced an explosion of musicality," he says. "The Feb. 24 concert will include songs people know and like of course, but it will also be very much about all the music I've written in the last three years."
Every year the Grants Committee of the Memorial Church gives away thousands of dollars to Massachusetts charities and organizations, many of them student-led
---
The concert will take place on Tuesday, Feb. 24, at 7:30 pm. in the sanctuary of the Memorial Church, Harvard Yard. Tickets are available through the Harvard Box Office (617) 496-2222, or online through their Web site.
---
programs affiliated with the Phillips Brooks House Association. Between January and March of each year, the committee of 12, made up of Harvard faculty, students, administration, and people from the congregation, evaluate as many as 350 applications for funding before presenting their recommendations to the Rev. Professor Peter J. Gomes, who makes the final selection.
"We like to find projects where the grant money will make the most difference. If a group has a strong volunteer force and needs the cash to buy materials, this is where a relatively small amount of money can be seen to do most good," says James Lawson, who co-chairs the committee along with the Rev. Dorothy Austin, Sedgwick Associate Minister in the Memorial Church. He adds that, with each passing year, "applications are coming in in greater numbers and even more compelling need."
Traditionally, funding for the grants comes from the Memorial Church's Sunday plate collection. This year, with the additional income from the Feb. 24 concert, the committee aims to expand its efforts. Says Lawson, "The concert signals the commitment of the ministers of the Memorial Church to the ongoing activities of the committee."
In 2003, 44 public service organizations, over half of which are Harvard student-run, received financial support. Predictably, homeless shelters and food banks figured large in the list, while, somewhat surprisingly, two charities focused on music. These were Harvard and Radcliffe Musical Outreach to Neighborhood Youth and Harvard-Radcliffe MIHNUET, which purchases materials for performers who offer live music to facilitate the healing process of patients at local nursing, care, and rehabilitation centers.
"Music is therapy," Taylor insists with vigor. "Many of us in the business speak about music as a survival tool. But people outside of the business also find that music provides the pillars and supports of their life."
And when Taylor goes on to describe music as a "life saver," he's not just speaking figuratively. "I'm a pilot, and on one occasion I lost an engine and had to glide to an airport. I knew I had only one opportunity to land the plane. So I started singing a number from 'My Fair Lady' – 'I've Grown Accustomed to Her Face.' I can still remember the look of incredulity on the face of my passenger. I used the tonality to pace what I was doing. It reintroduced discipline and order into the situation."
Born in a suburb of Boston, Taylor was raised in Chapel Hill, N.C., after his Southern-born father accepted a position as dean of a medical school there. The third of five children, Taylor's New England-born mother was a lyric soprano vocalist. While attending high school in Pennsylvania in the '60s, he began to suffer from depression and entered McLean Psychiatric Hospital in Belmont, where earlier, his brother James had spent time. Much of Taylor's therapy involved music. Remaining in Boston, Taylor began to perform in local clubs, where he was discovered by producer Jon Landeau, who later managed Bruce Springsteen. With his debut album, Taylor established his signature laid-back musical style.
"I was a poor student," says Taylor, summing up his career path. "After high school I was poking around for options and music made the most sense. So I tried to find an audience and next thing you know it's 35 years later and I'm still doing it."
In 2000, James, the more famous of the Taylor brothers, was inducted into the Rock and Roll Hall of Fame for chart-topping albums like "Sweet Baby James" and "Mud Slide Slim and the Blue Horizon." Though less stellar, Livingston's career has been just as enduring. And if there's ever been anything like sibling rivalry between the two, you'd never know it. At a concert Livingston gave last year at the Memorial Church, James joined him onstage, where their appreciation for each other was obvious.
"James and I are both hard, competitive guys," admits Taylor. "But I'm proud of him. James Taylor is very well known and he should be. Out of the vapors of the universe he's created some great music."
Funny. Brother James could say exactly the same thing about Livingston.
The concert will take place on Tuesday, Feb. 24, at 7:30 p.m. in the sanctuary of the Memorial Church. Tickets are available through the Harvard Box Office (617) 496-2222, or online through their Web site http://www.fas.harvard.edu/~tickets. Free parking is available at the Broadway Garage on Felton Street.