This year's choices for the Hasty Pudding Man and Woman of the Year awards join a distinguished, talented elite that includes Ella Fitzgerald, Katharine Hepburn, Jack Lemmon, and Mikhail Baryshnikov.
The 2004 recipients of the coveted honor are Robert Downey Jr. and Sandra Bullock.
The Woman of the Year festivities will be held today (Feb. 12). At 2 p.m., Bullock will lead a parade through the streets of Cambridge. Following the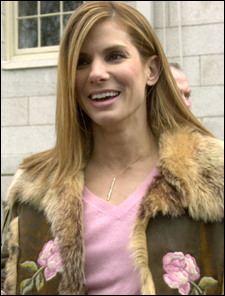 parade, the president of the Hasty Pudding Theatricals and the vice president of the cast will roast Bullock and present her with her Pudding Pot at 2:40 p.m. in the historic Hasty Pudding Theatre. After the roast, several numbers from the Pudding's 156th production, "As the Word Turns," will be previewed, and a press conference will be held at 3:20 p.m.
On Thursday, Feb. 19, the Man of the Year will be honored. The producers of the Hasty Pudding Theatricals will roast Downey and present him with his Pudding Pot at 8 p.m. in the Hasty Pudding Theatre prior to the start of the opening-night performance of "As the Word Turns." A press conference will be held immediately after the roast at 8:25 p.m.
The Man and Woman of the Year awards are presented annually to performers who have made a "lasting and impressive contribution to the world of entertainment." Established in 1951, the Woman of the Year award has been granted to many notable and talented entertainers, including Shirley MacLaine, Meryl Streep, Glenn Close, Julia Roberts, Jodie Foster, Drew Barrymore, and, most recently, Anjelica Huston. The Man of the Year award was established in 1963. Its past recipients include Bob Hope, James Stewart, Anthony Hopkins, Steven Spielberg, Harrison Ford, and, in 2003, Martin Scorsese.
Woman of the Year
Sandra Bullock is one of Hollywood's most sought-after leading ladies. She was last seen opposite Hugh Grant in the romantic comedy "Two Weeks Notice." The film, which she also produced, grossed more than $200 million at the box office. Bullock has also ventured into the television arena by executive producing "The George Lopez Show," which is currently in its third season on ABC. Bullock will begin shooting the highly anticipated sequel, "Miss Congeniality 2," in early spring.
Following acclaimed roles in several motion pictures, Bullock's breakthrough came in the 1994 runaway hit, "Speed." Her next two features – "While You Were Sleeping," which earned a Golden Globe nomination, and "The Net" – were both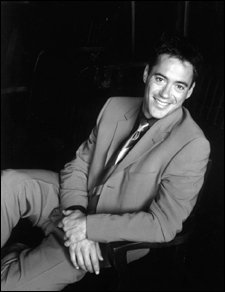 critical and popular successes. Her subsequent starring roles include the box-office smash "Forces of Nature"; "Hope Floats," which marked her feature film producing debut; "Practical Magic," which she also co-produced for her production company Fortis Films; "Gun Shy," also for Fortis Films; "Speed 2: Cruise Control," "A Time to Kill," "In Love and War," "Two if by Sea," "The Vanishing," "Demolition Man," "Wrestling Ernest Hemingway," "The Thing Called Love," and the voice of Miriam in the animated film "The Prince of Egypt."
Other credits include the starring role in "Divine Secrets of The Ya-Ya Sisterhood" for first-time director Callie Khouri and the lead in the psychological thriller "Murder By Numbers," which she also executive produced. Bullock made her debut as a writer/director with the short film "Making Sandwiches," in which she also starred with Matthew McConaughey and which debuted at the 1997 Sundance Film Festival.
Bullock has received numerous awards and nominations for her work, including two Blockbuster Entertainment Awards and two MTV Movie Awards for her role in "Speed"; a Golden Globe nomination, an American Comedy Award nomination, two People's Choice Awards, and two Blockbuster Entertainment Awards for her role in "While You Were Sleeping"; a People's Choice Award and Blockbuster Entertainment Award for her role in "A Time to Kill"; and a Golden Globe nomination for her performance in the blockbuster hit "Miss Congeniality." In 1996, Bullock was voted NATO/ShoWest "Female Star of the Year."
Man of the Year
Robert Downey Jr.'s versatility has come to the fore in a number of memorable and disparate roles. He received an Academy Award nomination and won the British Academy Award for best actor for his performance in the title role of "Chaplin," released in 1992 by TriStar Pictures.
In October 2003 Downey will star in the ICON film "The Singing Detective," a musical drama remake of the popular BBC hit, which also stars Mel Gibson and Robin Wright-Penn. In addition, he will star with Halle Berry and Penelope Cruz in the Warner Bros. film "Gothika." In 2001, Downey co-starred in "Wonder Boys," directed by Curtis Hanson. In this dramatic comedy, Downey played the role of a bisexual literary agent. In April 2000 he starred alongside Steve Martin and Eddie Murphy in the hit comedy "Bowfinger."
Downey made his primetime television debut joining the cast of the Fox-TV series "Ally McBeal," playing the role of attorney Larry Paul. For this role, he won the Golden Globe Award for Best Performance by an Actor in a Supporting Role in a Series, Mini-Series or Motion Picture Made for Television, as well as the Screen Actors Guild Award for Outstanding Performance by a Male in a Comedy Series. In addition, Downey was nominated for an Emmy for Outstanding Supporting Actor in a Comedy Series.
In September 1999 he starred in the film "Black and White," written and directed by James Toback. "Black and White" is about a group of white high school teens and their excursions into the lives of Harlem's black hip-hop crowd. Also in 1999, he starred with Annette Bening in "In Dreams," playing the villain.
In 1998, Downey co-starred with Tommy Lee Jones and Wesley Snipes in "U.S. Marshals." Also, he starred with Heather Graham and Natasha Gregson Wagner in the critically acclaimed "Two Girls and a Guy," directed by James Toback.
In 1997, Downey was in Robert Altman's "The Gingerbread Man"; "Hugo Pool," directed by his father Robert Downey Sr; and New Line Cinema's "One Night Stand," directed by Mike Figgis and starring Wesley Snipes and Nastassja Kinski.
In 1995, Downey starred in Miramax's "Restoration," directed by Michael Hoffman. Also that year, he starred in "Richard III." In Oliver Stone's "Natural Born Killers" (1994), Downey starred as a tabloid TV journalist who exploits a murderous couple's killing spree to boost his ratings.
In Robert Altman's "Short Cuts" (1993), he appeared as an aspiring film makeup artist whose best friend commits murder. For the comedy "Hearts and Souls" (1993), Downey starred as a young man with a special relationship with four ghosts.