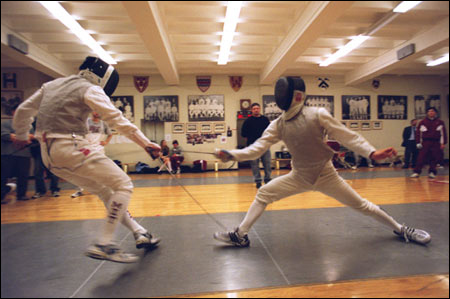 The Harvard men's fencing team bounced back from a tough weekend at Penn earlier this month, where they dropped three consecutive matches against the Quakers, Drew, and Rutgers, to sweep visiting M.I.T., 19-8, and Brandeis, 15-12, on Feb. 11 at the MAC.
Freshman foilist Enouch Woodhouse powered the Crimson with a 6-0 outing, allowing just six touches against half a dozen opponents, while sophomore David Jakus was undefeated in sabre. The men improve to 7-4 with the wins.
Meanwhile, the Crimson women split the afternoon against the Engineers and the Judges. Bolstered by the efforts of sophomore foilists Chloe Stinetorf and Anne Austin, who both went unbeaten in six bouts, Harvard foiled the Engineers, 16-11, before falling to an underdog Brandeis team, 14-13.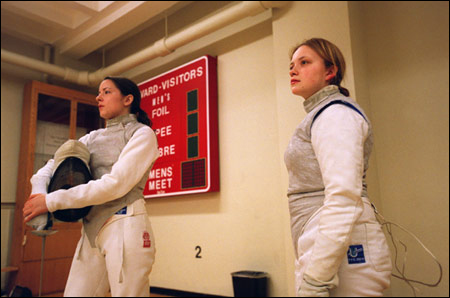 Against the Judges, the No. 9 Crimson lost in sabre, 7-2, before erasing a five-bout deficit to capture the foil event by the same score. With the meet balancing on the outcome of epee, Brandeis went on to take five bouts to Harvard's four to secure the one-point win. With the split, the Crimson women sit at 10-5.
Next up, Harvard heads to Princeton this Saturday (Feb. 21) to face the Tigers and Yale.