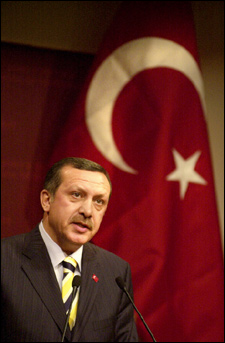 Turkish Prime Minister Recep Tayyip Erdogan called for an "Istanbul process" Friday (Jan. 30) that would band together the United States, Europe, and the Middle East in an effort to boost democratic government, promote economic growth, and ensure security to the troubled region.
Erdogan, speaking at the John F. Kennedy Jr. Forum at the Kennedy School of Government, said such an effort could transform the Middle East much the same way U.S. involvement helped transform Europe from "a hotbed of continental and world wars into a geography of peace."
In his speech, delivered in Turkish with an English translator, Erdogan rejected the assertion by some that democracy is incompatible with Middle Eastern culture or religion. He said that Turkey, a secular democracy whose population is largely Muslim, is evidence that that isn't true.
Erdogan also voiced his strong contention that neighboring Iraq not be broken into separate states along religious or ethnic lines. Turkey has long been concerned that independence in Iraq's Kurdish north would foment dissent among Turkey's Kurdish minority. During a White House meeting with President Bush Wednesday, Bush assured Erdogan that the United States prefers a democratic Iraq that is "territorially intact."
Erdogan, who was elected prime minister last March, spoke at Harvard as part of a multistop visit to the United States that included the meeting with Bush.
Erdogan's visit was sponsored by the Caspian Studies Program of the Kennedy School's Belfer Center for Science and International Affairs.
Belfer Center Director Graham Allison, who also serves as the Douglas Dillon Professor of Government and as faculty chair of the Caspian Studies Program, introduced Erdogan. Allison said that Bush's intention to foster democracy in the Middle East makes Turkey – a largely Muslim secular democracy – critically important, both as an ally and as an example.
"In that project [supporting democracy], no country is more important than Turkey," Allison said. "Turkey bridges … worlds desperately in need of understanding."
In question-and-answer sessions both before his speech with the press, and after with the audience, Erdogan touched on familiar themes, refusing to acknowledge any Turkish responsibility for Turkey's 1915-16 genocide of Armenians, and stressing a need for a resolution in the conflict over Cyprus.
Erdogan deflected questions about the deaths of Armenians in Turkey during World War I by stressing improving relations with neighboring Armenia, saying the nations have opened their airports to mutual commercial travel, and their foreign ministers are discussing ways to increase cooperation.
Erdogan also fielded questions about dominance by the military, the influence of Islam, and the role of women, portraying Turkey in each of his answers as a stable nation under civilian democratic control, secular but ensuring religious diversity and progressively fostering the involvement of women in national politics.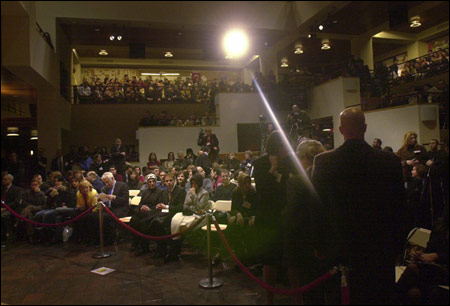 Assistant Professor of Business Administration Zeynep Ton, a native of Turkey, said she was impressed with Erdogan's speech. Ton said she doesn't support him politically and has some concerns about government support for Islam, but she said she thought he spoke from the heart during his talk.
"I was pleasantly surprised by his charisma," Ton said. "He said all the right things. I hope he sincerely believes what he said."
During his talk, Erdogan said building trust is a critical first step in supporting Middle Eastern democracy. People and governments in the region are suspicious of the motives of Western nations when they talk about fostering democratic government. But he also said that people in the Middle East want democracy, though not necessarily with the Western cultural trappings that are associated with it.
"There exists an unmistakable demand in the Middle East and in the wider Muslim world for democratization," Erdogan said.
He added that the practice of democracy must not be watered down under the guise of respecting regional differences. Like Western democracy, Middle Eastern democracy must not merely feature elections and parliaments, but be built around the respect for human rights and freedoms, rule of law, gender equality, and transparency in government.
"Even as we ought to accept that each country would progress with a different method and speed toward that goal, the standard for the expected end-state should not be lowered," Erdogan said. "The purpose cannot be creating self-styled democracies, but rather encouraging steps that are conducive to establishing democratic rule at universal standards."
He said there are two ways to establish the essential trust that can smooth democratic progress. The first is to find a solution to the Arab-Israeli dispute, which would have the added benefit of reducing the threat from terrorism, and the second is to ensure that a whole, strong, democratic nation emerges from post-Saddam Iraq.
"The voice of the Muslim world must be listened to carefully with an open heart," Erdogan said, urging the United States and Western powers to seek change through persuasion and the attractiveness of their societies. "Change must be supported with soft power and by setting a good example. … The purpose of power is to use it for the well-being of others."