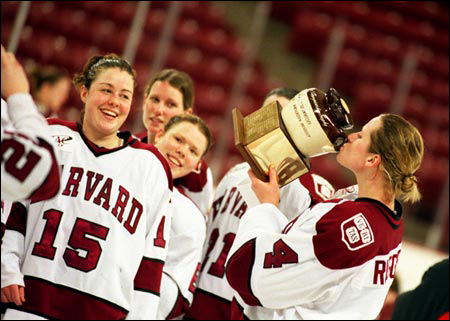 Far from Beanpot business as usual, it took a three-goal, third-period outburst by the No. 3 Harvard women's hockey team to put away a feisty Northeastern team, 5-1, in the championship game this past Tuesday evening (Feb. 10) at B.C.'s Kelley Rink. With the win, Harvard (18-2-1; 2-2-0 Ivy) grabs its sixth-straight best-in-Boston title, and 10th overall, since the women's tourney began 26 years ago. Meanwhile, in the consolation round, B.C. downed BU, 7-1.
Against the Huskies, a team apparently still stinging from back-to-back overtime losses against the Crimson in 'Pot's past – two 4-3 heartbreakers in 2000 and 2001 – the Crimson were forced to work for shots through two hard-fought periods. Paced by the nation's top goalie in Chanda Gunn (51 outstanding saves on the night), Northeastern held Harvard to a 2-1 lead after 40 minutes of hockey.
For a team that has outscored opponents 31 to 8 in its last six title-game outings, Harvard's one-goal advantage after two periods was, let's just say, unusual. But at the 14:22 mark of the third period, all was right again in the Beanpot universe.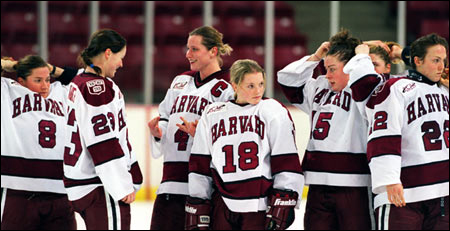 Sophomore Jennifer Raimondi commenced the turnaround with a slap shot from the left circle that hit the tip of Gunn's glove before finding the back of the net to give Harvard a two-goal cushion. Less than five minutes later, first-year Jennifer Sifers tucked a rebound past Gunn for a 4-1 lead. And finally, with just 40 seconds remaining, Nicole Corriero '05 (recently named one of the top 10 candidates for this year's Patty Kazmaier Memorial Award) scored on the power play to seal the victory, 5-1.
Center Julie Chu '06 tallied two assists, while sophomore netminder Ali Boe had 10 saves for Harvard in 60 minutes of action.
Next up, the women take on Brown this Saturday (Feb. 14) in Providence before returning home to host the Bears on Sunday (Feb. 15). Faceoff for both games is set for 2 p.m.
In men's action, the high-flying Crimson (coming off a dramatic 7-5 win over Yale on Feb. 6 – a game that saw the Crimson score six unanswered goals) fell to Northeastern, 3-1, in the Beanpot consolation game on Monday night (Feb. 9). No. 1 B.C. clinched the 52nd annual prize, upending BU, 2-1, in overtime.