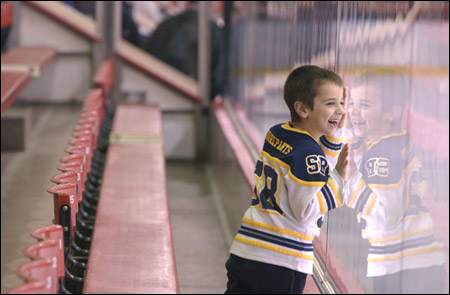 It may have been just a college hockey rink, but for the 60 or so children who got to test their skills with the Harvard Men's Hockey team on that ice last Wednesday (Jan. 28) night, it was like being in the Boston Fleet Center…
No, it was EVEN BETTER…
Well, at least that's the impression some members of the Allston-Brighton Youth Hockey program gave, when they reckoned that the Crimson were better than the
---
Photo gallery:

Allston-Brighton hockey clinic

---
Bruins. (Not surprising coming from the hockey team's smallest – but biggest – fans.)
The occasion was the Harvard Men's Hockey Team and Allston-Brighton Youth Hockey clinic, an annual event that has brought local youth onto the Harvard ice for one-on-one practice with the team since 1989. Paired up with crimson-capped players, the younger Pee Wee team, dressed in oversized orange jerseys bearing the VERITAS insignia, swarmed the ice first, joining the college kids and maneuvering from net to net like diminutive pros. Then, the arena reverberated like a shooting gallery as slapshots caromed off the boards.
That was all pretty good, but then came the "human tube," where the Allston-Brighton kids became cannonballs, testing their skating skills by tucking and zipping through a canopy of Harvard players lined up in a row.
And one boy captured the ultimate prize, a chance to go up against Allston-Brighton hometown favorite Noah Welch in a scrimmage. "Tell the boys in the locker room he got a piece of Noah," called one of the parents sitting on the sidelines. The youngster dashed back to report the news to the "Bantam skaters," the older players waiting for their turn on the ice.
The Harvard team can do no wrong in the eyes of these children, but ask any of them who their favorite player is and the answer will be Noah. Welch is a Brighton resident, former Allston-Brighton Youth Hockey player and Harvard junior who, even before he graduates, already has a contract to go pro. He is, understandably, a local legend.
Taking a break to reflect on the players wearing the colors he wore as a boy, Welch admitted that many of the Allston-Brighton players had the sticks that he passes out after games, but he eschewed celebrity status. Instead, he gave an honest glimpse of what this event means for all the players. "We feel just as good about it as they do. All the guys look forward to this event. When the coach told us it was coming up, we were all pretty excited," said Welch.
Assistant coach Sean McCann '94 echoed Welch's observations. "From the standpoint of the little guys, to play with the Harvard team is a pretty big deal, but even our guys love to play and have fun; it gives them a break from a pretty intense schedule and reminds them about the fun of it," McCann said.
The Allston-Brighton Hockey Clinic is just one of the many ways Harvard athletes reach out to local children. Almost all Harvard athletes volunteer in the community each semester. Some teach athletic skills during special sporting events, others tutor children in after-school programs. The result is positive long-term relationships that build self-esteem and give children a chance to learn about a sport, and also college, while having fun.
"We really appreciate the hockey team's generosity in hosting this clinic each year," said Kevin McCluskey, Harvard's director of community relations for Boston. "It's one of the highlights of our partnership with the Allston-Brighton community."
– Lauren Marshall