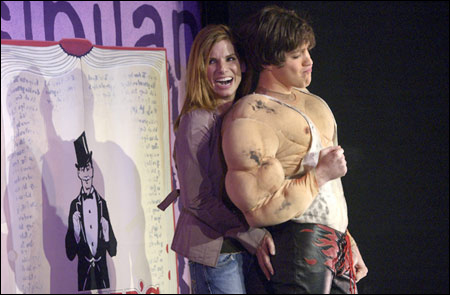 It turned out nicely. The Hasty Pudding Woman of the Year's day in the sun (Feb. 12) was sunny and relatively mild.
Accompanied by a crowd of curious onlookers and journalists, the actress responsible for the first-time conjoining of the words "beautiful" and "Bullock" started her day with an introductory tour of Harvard Yard. A tad overwhelmed by
---
Photo gallery:
– Woman of the Year:
Sandra Bullock

---
the hubbub, the star of "Miss Congeniality" asked teasingly, "Who am I following?" before Pudding members Brandon Presser '05 and John Blickstead '06 (Hasty's VP) flanked her confidently and unmistakably to kick off the walk.
On the 15-minute tour, which began at Johnston Gate and continued to the John Harvard Statue before exiting onto Mass. Ave., Sandra Bullock and company discussed Harvard's houses, libraries, and museums, while debating the merits of ice cream vs. frozen yogurt.
At the statue, Bullock, who was wearing jeans, a pink blouse, and an embroidered suede full-length coat, pleaded with Presser dreamily: "Tell me about John Harvard?" Upon learning about the three lies, Bullock quipped, "So this is what happens when you're really smart." A grateful Bullock ended the tour with some encouraging words for her two escorts, offering, "You got a career in this. Universal Studios needs you."
The fabulous Pudding parade began at 2 p.m. in front of the Inn at Harvard with the usual assorted marchers enjoying their brief promenade along Massachusetts Avenue: the Radcliffe Pitches, the Harvard Ballet Company, the Harvard Band, the Korean Fan Dance Group, the KISS 108 truck, a bearded guy on a bike, Echo Farms from Hinsdale, N.H., handing out free pudding and trailed by two Jersey cows with plastic flowers around their necks, the press truck (property of A. Walecka & Sons Moving and Storage of New Bedford and Wareham) with its burden of intent photographers, and, finally, the cynosure of all eyes, the black Volvo convertible bearing the ebullient Woman of the Year waving valiantly but nearly obscured by the feathered and bejeweled bodies of her attendant drag queens.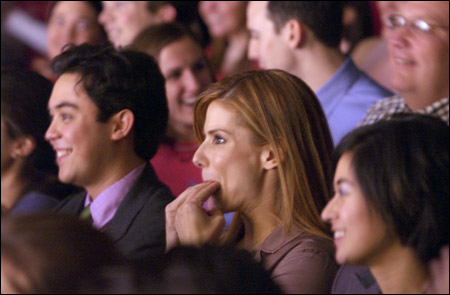 Bullock was more easily visible when she ascended the stage of the Hasty Pudding Theatre to be elaborately roasted by her hosts, Pudding President Clare Putnam '04 and Blickstead. Bullock let them know she was ready for whatever they had planned for her. "Bring it on," she said gamely.
"I can't believe she's really Sandra Bullock," Blickstead gushed. "You're an inspiration to me."
But as he went on recounting her movie roles, it became clear he had naively confused the real Bullock with the characters she had played. When Putnam set him straight, he became very upset. "I need a moment to take this in. This is very tough for me. I should have known she couldn't keep that bus above 50 miles per hour," he said, referring to Bullock's breakthrough role in "Speed."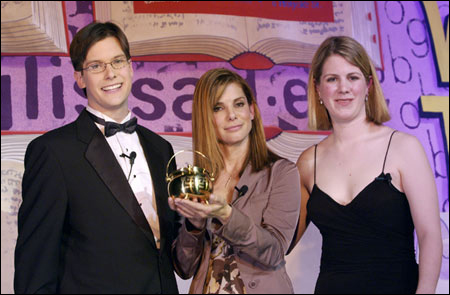 "Well, what if she could prove she can do the things she did in the movies?" suggested Putnam, and there it was, the segue into the sequence of preposterous stunts we all knew was in store for her.
Bullock had to try out pickup lines on "a typical Harvard stud" wearing a padded Mr. Universe torso and a self-satisfied smirk, dance with him to "Love Potion Number Nine," and have sex using a version of the neural transmitter caps that
---
Hasty Pudding Man of the Year Robert Downey Jr. will be roasted at Hasty Pudding Theatre at 8 tonight. The event is sold out.
---
had been featured in her movie "Demolition Man." During this sequence, Bullock sat passively while the Harvard stud twitched orgiastically then rose, said "I'll call you," and sauntered out.
Next Bullock had to prove that she was physically fit by pedaling a stationary bike. During this stunt, Blickstead received a call on his cell phone. "Oh my God," he explained. "There's a bomb on the bike!" Next, for reasons that were not exactly clear, she was called upon to do her best imitation of her co-star in "Two Weeks Notice," Hugh Grant.
"Oh, bother, bother," puffed Bullock as she pedaled furiously.
"For your fourth and final question," said Putnam, "Who do you like better, me or John?"
"Well, having seen both of your breasts, I have to say that yours are a bit hard, John. Clare's are more natural. So I'll have to go with her."
After the torment was over, Bullock stepped to the microphone. "This has been a really fun day," she said. "To finally get to Harvard through humiliation is really not so bad. From now on, every time I feel self-doubt that I didn't go to Harvard, I'll remember that Ted Kaczynski, the Unabomber, went here, and that will make me feel better."