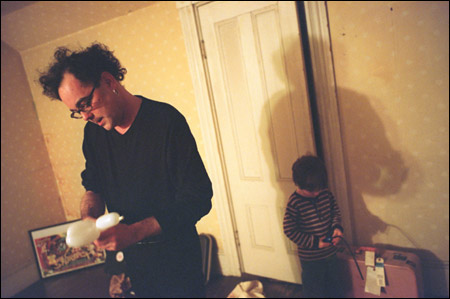 Lester Esser has an unusual woodworking project this winter. He's building a new bed of nails.
Esser, group leader for Media Services at the Harvard School of Public Health, will use the new bed in his unusual sidelight. When he's not working as a media technician, he's working on magic tricks and stunts that wow audiences and – hopefully – get him home unhurt.
Esser's something of a traditionalist and his list of stunts is familiar to folks knowledgeable about circus sideshows. He eats fire, breaks cinder blocks with his head, eats lightbulbs – though not so much anymore (it's tough on the digestive system) – jams a fork or a nail into his nose, sticks his hand into animal traps, and performs a variety of other acts that will have audiences gasping.
"Some people think it's a vaudeville from hell show," Esser says good-naturedly.
Esser has always been fascinated by the circus sideshow, those tents where people would "step right up" to see giants and fat ladies and the world's smallest, tallest, fattest, thinnest, ugliest, hairiest – whatever.
"People would say the carnival is coming and I'd save my quarters to see the sideshow," Esser says.
Esser grew up in Tampa, near Gibsonton, the legendary Florida town where many people who worked as circus sideshow attractions spent the winter. Marguerite the Midget was a friend of the family, he says. As a kid, Esser never thought of her as a sideshow attraction until he went to the state fair and he saw her sideshow as the "Smallest Woman in the World."
Esser's fascination with sideshows continued as he got older. He kept going and began delving into their history. About 15 years ago, he started doing magic for friends and the occasional show for children. He threw in some stunts, which got a strong reaction from the audience.
"People were loving it. I just threw the deck of cards away," Esser says.
Esser declines to share his secrets, saying only that doing stunts safely depends a lot on technique. He also adds a disclaimer:
Don't try this at home.