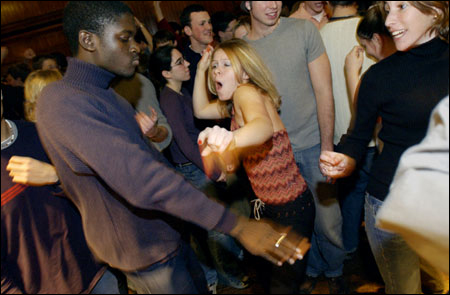 The wind across Harvard Yard blew numbingly cold, but the scene inside Annenberg Hall Wednesday night (Jan. 7) was toasty and congenial at the second annual Freshman Study Break hosted by President Lawrence H. Summers. Nearly 1,200 members of the class of '07 were lured from their desks and library carrels by the irresistible trio of food, dancing, and an opportunity to meet their president.
"It's really gloomy and cold outside, then you come in here and it's like paradise," said Amy Klein '07 as she shed her coat and eyed the sumptuous spread of pastries. "I'm pretty shocked and elated. I've never seen this much good food in one place," she added.
Such appreciation warmed the Annenberg staffers who worked from six in the morning to transform the dining facility into a casually elegant lounge and prepare the desserts, cheeses, and nacho bar that greeted the hungry freshmen. "Our people look forward to doing it for [the students]. They enjoy it," said Annenberg general manager Kay D'Andria. "It gives the kids something special, and that's what it's all about."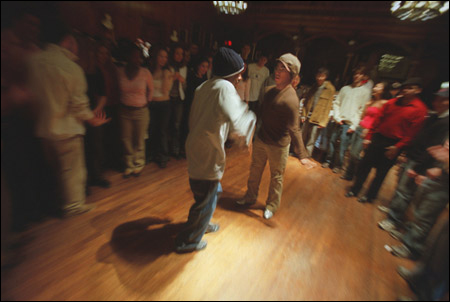 The students were bolder about filling their plates than filling the dance floor, prompting one group of freshmen to compare the scene to a high school dance. "We're all here, but what percentage of the kids are actually dancing?" said David Henderson '07. As DJ BC (by day, Freshman Dean's Office administrator Bob Cronin) spun Bon Jovi's power pop anthem "Livin' on a Prayer," a brave group christened the dance floor with fist-pumping enthusiasm.
By the time Summers arrived, dressed casually in an argyle sweater, dancing was in full swing. Summers held court with a group of students by the baked brie, asking them about their studies and their winter breaks. "He seems like a pretty cool guy," said Mark "Russel" Lurie '07 after speaking briefly with Summers. "Plus, I heard Larry does a mean tango."
Word of Summers' dance floor debut at last winter's study break had spread through the class of '07, and several students admitted the prospect of a reprise had drawn them in. "I want to see how he is when he's not on the job, and I want to see how he grooves on the floor," said Imran Saleh '07.
"It would be rude of the host not to dance," added Brad Wainright '07.
Summers addressed the students' curiosity head-on in his brief remarks, quoting Samuel Johnson's observation of a dog walking on two legs. "The question isn't how well it was done, but that it was done at all," he said. "I have that feeling about dancing." He threatened to filibuster at the microphone for the next hour to avoid the dance floor, but then, after encouraging praise for the Annenberg staff, he turned to DJ BC and commanded, "Hit it."
To the Beatles classic "Twist and Shout" and the delight of the freshmen, Summers himself hit it – the dance floor – waving and high-fiving the jubilant crowd.