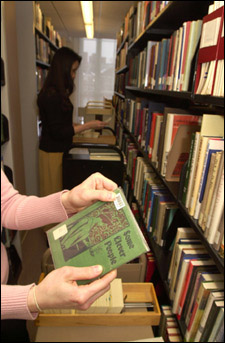 As part of its 60th anniversary celebration, the Arthur and Elizabeth Schlesinger Library on the History of Women in America at the Radcliffe Institute for Advanced Study is undergoing a $6 million renovation to improve the safety of its collections and to make the library's space more functional and attractive to researchers from Harvard and around the world.
Renovations include new climate-control equipment to meet the standards required for manuscript and book preservation. In addition, the renovation, scheduled for completion in late fall 2004, will expand exhibit and seminar facilities and create a double-height reading room for researchers and other patrons.
As it prepares for renovations by moving the entire collection to the Harvard Depository and relocating staff offices to Agassiz House and the Cronkhite Graduate Center, the Schlesinger Library will be closed to all users until Feb. 9. Beginning Feb. 10, access to collections will resume on a limited basis at a temporary reading room in Agassiz House. The reading room will be open by appointment only Tuesday through Thursday from 9:30 a.m. to 4:30 p.m. Researchers will need to request materials 24 to 48 hours in advance.
To request a reading room appointment or library materials, call (617) 495-8540.
– Beth Potier
For more information, http://www.radcliffe.edu/schles