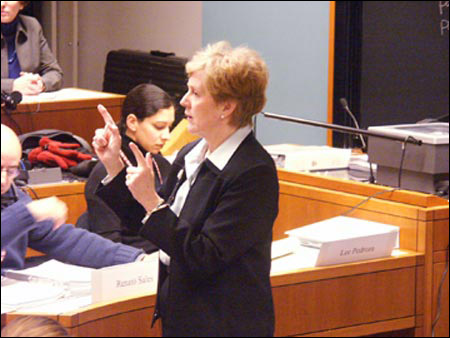 A group of approximately 40 top and midlevel government officials from throughout Mexico listened intently Thursday (Jan. 15) when the discussion in a Kennedy School classroom turned to how to improve performance at City Hall. Jose Luis Diaz, a government lobbyist, reflected on the applicability of the analysis for many countries. Diaz noted that in Latin America, it is important to know that current conditions can be changed.
Diaz was among the participants in the Kennedy School Executive Program "Meeting the Challenge of Mexico's Future: Leadership and Performance Strategies," held in Cambridge the first two weeks in January. The program focuses on leadership for performance, trade, and globalization, and relevant issues in policy development, including poverty and regulation.
During Thursday's class session on "Managing the Politics of Change," Merilee Grindle, Edward S. Mason Professor of International Development, facilitated the discussion based on the case study of a mayor in La Paz, Bolivia, who took office only to discover layers of corruption throughout the city government. Grindle asked the students how they would handle that challenge.
A variety of responses were expressed. One group of students recommended changing the system to make it easier for residents to pay taxes and license fees without having to deal with potentially corrupt cashiers. Another group recommended an intensified effort to catch crooked contractors and repair the procurement process. All of the students seemed to agree that cleaning up city hall wouldn't be easy, but none said they would turn down the challenge.
The challenges of governing Mexico are met head-on in the program, with class sessions devoted to attacking poverty, managing social programs, coalition building, meeting globalization challenges, and making government effective. Kennedy School instructors include Bob Behn, lecturer in public policy; Xavier Briggs, associate professor of public policy; and Robert Lawrence, Albert L. Williams Professor of International Trade and Investment; among others.
Participants include economists, politicians, midlevel administrators, consultants, and professors from the Instituto Tecnologico y de Estudios Superiores de Monterrey (ITESM), the Kennedy School's partner in a four-year agreement that establishes collaboration between the two institutions in areas of curriculum development, research, and executive training.
The lessons learned in the classroom will have practical applications back in Mexico, according to Guillermo Merelo Alcocer, a program participant who works with the elections office in Mexico City. "It's nice to come away with the feeling that there are things you can do to impact your work at home and it only requires some skills that can be learned here," he said.