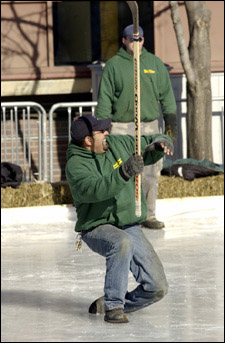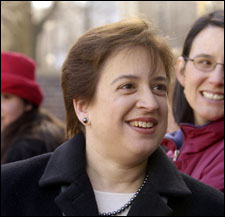 With Krispy Kreme doughnuts, hot chocolate, and triple-axels, Harvard Law School (HLS) launched its most visible effort to boost student morale Wednesday (Jan. 22): an outdoor ice skating rink smack in the middle of its campus.
"It's cold outside, and I thought, 'how do we turn lemons into lemonade?'" said HLS Dean Elena Kagan, who initiated the rink after seeing a 50-year-old photo of Harkness Commons that showed a similar frozen feature. "You can't do this in Palo Alto, you know," she added with a poke at rival Stanford.
While the opening drew more curious onlookers than skaters, those who came to glide gave the rink high marks. "I think this is amazing," said Ommeed Sathe 2L, his skating skills, rusty from several years of disuse, returning after a few laps around the ice. "Everyone's really excited. Even people who don't skate think it's a brilliantly crazy idea." Sathe and others noted that many of their classmates don't have skates, but the Law School has distributed a list of local shops that sell them.
Raymond Szeto 2L took to the ice in both skates and curling shoes, deeming the rink better for the former sport than the latter. "I've been waiting for this for a while," he said. "My friends who've graduated told me if they had this, [their Law School careers] would have been so much better."
Indeed, the rink connects with Kagan's priority to enhance student life at HLS. While she acknowledged that there's not a direct link between a graceful spin and becoming a better lawyer, "sometimes small things make a big difference," she said. "It's an important part of the student experience to have good athletic and social facilities."
Kagan credits the hard, cold work of the HLS facilities crew and Cambridge Landscapers, which created the rink over the past week. They will maintain the ice with a hand-held Zamboni-type device that is dragged along the surface. The rink, which is in Javis Field in front of Harkness Commons, will be open to the entire Harvard community between 8 a.m. and 10 p.m. daily until it melts. Skaters must bring their own skates.
Visiting briefly during the opening festivities, Kagan promised that she'd return with her skates – perhaps out of the noonday glare. "I personally haven't skated since I was 13 years old," she said.