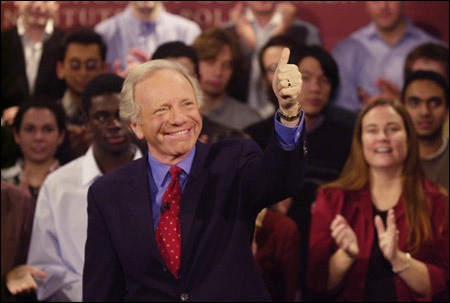 Describing Saddam Hussein as a "ticking time bomb" who had destabilized the Middle East and represented a serious threat to the United States, Connecticut Sen. Joseph Lieberman reiterated his support for the U.S. invasion of Iraq at a Dec. 15 live broadcast of MSNBC's "Hardball" from the John F. Kennedy Jr. Forum.
Pressed by "Hardball" host Chris Matthews to justify the invasion, Lieberman, one of nine candidates vying for the Democratic presidential nomination, responded that the "imminent danger" posed by Hussein's arsenal of chemical and biological weapons was reason enough to invade. "We can't let an international gangster snub his nose at the United Nations," said Lieberman, referring to Hussein's refusal to comply with the UN resolution adopted last year.
"We now have the opportunity to do what is critically important in building up a majority of the Muslim world who are not fanatical, violent extremists by showing them here in Iraq that the result of what we've done is to create a country where the followers of Islam can live freer lives," said Lieberman.
Lieberman took issue with former Vermont Gov. Howard Dean's assertion that the capture of Hussein in December has not made the United States safer. Drawing applause from the forum audience, Lieberman said the United States was "profoundly safer" with Hussein's capture and that Dean, whom polls place as leader in the race for the Democratic presidential nomination, was "in a spider hole of denial" if he couldn't see that. "He was aimed at us," said Lieberman. "With Saddam Hussein gone, we've saved the lives of hundreds of Americans."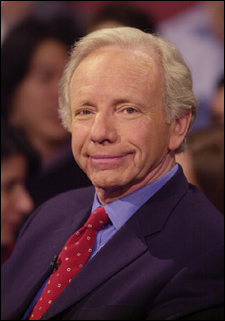 Though a supporter of the Bush administration's decision to invade Iraq, Lieberman criticized the administration's dealings with the world community, specifically its decision to withdraw from both the Kyoto treaty and the arms control treaties. "You have no idea how deeply felt is the concern in the world about greenhouse [gas] pollution," said Lieberman.
The Democratic candidate for vice president in 2000 brushed off repeated questioning by Matthews concerning his former running mate, former Vice President Al Gore, who recently endorsed Dean for the Democratic presidential nomination.
"I will be forever grateful to him for the opportunity he gave me in 2000, but I'm going on. Obviously, I wish that I had known from other than the media when he announced his decision last week, but I'm more determined than ever to fight for what's right for my party and the country. That's what this is all about. It's not about Al Gore or my future."
Lieberman was the last of the Democratic candidates for the presidential nomination to appear on the series "The Battle for the White House." Sponsored by the Institute of Politics, the program aired weekly in November and early December.