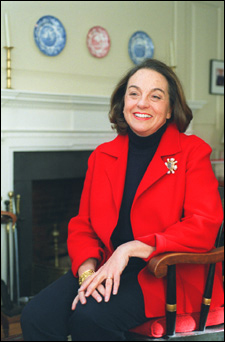 President Lawrence H. Summers announced yesterday (Jan. 14) that longtime veteran of the Harvard administration Jackie O'Neill has agreed to be the next University marshal.
"As is evident to those of you who know her, Jackie O'Neill will bring a great deal of energy, skill, and organizational savvy to this role," said Summers in his announcement to the University community.
The marshal plays a key ambassadorial and organizational role in the life of the University and its relations with the wider world. Among other things, the marshal each year plans scores of visits to Harvard by distinguished guests from around the world, serves as Harvard's chief protocol officer, and orchestrates an array of high-profile University-wide events, including the Morning Exercises of Commencement.
O'Neill is a widely admired member of the Harvard administration who over the years has rendered outstanding service as a senior community relations official, as staff director in the president's office, and most recently as director of communications and external relations for the Allston Initiative. She has played a leading role in planning such major events as the special Harvard convocation honoring Nelson Mandela to Harvard in 1998 and the University's past two presidential inaugurations.
Said O'Neill, "Harvard's history and traditions, and the celebratory events that display them, knit our community together by reminding us of our shared values and common purpose. I am honored to play a part in the stewardship of our past and also hope to enlist the help of others to consider some new initiatives to welcome and accommodate a growing population of international students and visitors."
"Jackie," said Summers, "has a remarkable flair for bringing people together in a spirit of common enterprise, and I am confident that her talents, expertise, and judgment will serve the University well in her newest role, especially as Harvard's international reach continues to widen."
The marshal will continue, as before, as a roughly half-time position, and O'Neill will continue to play a critical role, in her remaining time, in communications and external relations for the Allston Initiative. "This latter role," said Summers, "remains an important one for Harvard as our planning for Allston progresses, and we are fortunate to have, in Jackie, someone with the experience and versatility to fulfill both sets of responsibilities with distinction."
In addition to her service as a senior administrator at Harvard, both in government and community affairs and in the president's office, O'Neill is active in an array of civic pursuits. She currently serves as a trustee of the Brigham and Women's Hospital, as chair of the board of McBride House (a residence for individuals and families living with HIV/AIDS), and as a trustee of Beaver Country Day School. She also chairs the board of the American Repertory Theatre.
Said Summers, "I hope you will join me in congratulating Jackie on her new role, which she will begin on Feb. 1. I know she will value your advice and support as she begins this new challenge."