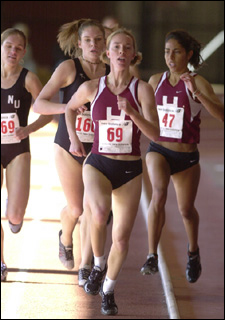 It was more for lack of hustlers than hustle that the Harvard men's track and field team fell to cross-town rival Northeastern this past Saturday (Jan. 10) at Gordon Track. Short-manned due to injuries, the men's team failed to enter a single sprinter in any race under 500 meters, eventually falling, 82-62, in their first return to action since winter break. Meanwhile, the women's team stayed competitive on the strength of their long- and mid-distance runners, but came up short as well, dropping the meet, 71-55.
Following a forfeit in the 60-, 200-, and 400-meter dash in which nary a Crimson runner ran, the men dominated the long-distance events, including the mile and the 1,000- and 3,000-meter run. First-year Connor Wilson captured the mile with a time of 4 minutes, 20.99 seconds, to give the Crimson its first points of the afternoon. Teammate Timothy Galebach '06, who placed second in the mile, later took the 3,000-meter run with a time of 8:45.56, edging Jon Litchfield of Northeastern by two seconds. Behind Litchfield, a host of Crimson runners finished third through seventh. Harvard also commanded the 1,000-meter event, as Alasdair McLean-Foreman '05, Jonathan Paul '07, and Wilson placed first, second, and third, respectively.
Much like the men's team, the Crimson women put forth strong performances in the mile and 3,000-meter run. Sophomore Laura Maludzinski overcame a physically aggressive pack of Husky runners to prevail in the mile, crossing the finish in 5:10.69 – three seconds ahead of Stephanie Morrison of Northeastern. Junior Rosalinda Castaneda, who finished one second behind Morrison, went on to win the 3,000-meter in 10:28.65, a full five seconds before her teammate Mairead O'Callaghan '04, and a full 10 ticks before fellow Crimson distance runner Lillian Stoner '07.
On the field for the men, sophomore Clifford Emmanuel won the high jump with a leap of 2.06 meters, besting teammate Tekky Andrew-Jaja's '05 jump of 1.96 meters, as the women swept the weight throw event with seniors Johanna Doyle and BreeAnna Gibson and freshman Shawna Strayhorn placing first, second, and third, respectively.
Harvard returns to action on Jan. 31 when the Crimson host a league meet against Cornell and Brown. The action starts at noon.