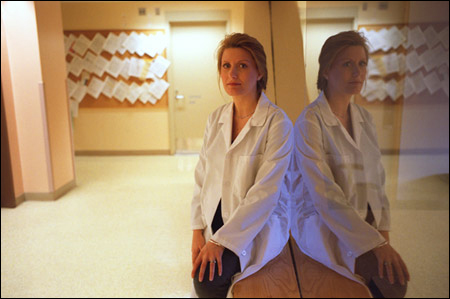 Paloma Valverde knows scorpion venom. A biochemist, she has worked with it for years, and marveled at how it can both kill prey and fight a number of diseases in both animals and humans.
Three years ago, Valverde received a fellowship from The Forsyth Institute, an independent research facility associated with the Harvard School of Dental Medicine in Boston. She was aware that other scientists had been investigating scorpion poison for treating a variety of ills including organ transplant rejection, rheumatoid arthritis, lupus, multiple sclerosis, and even cancer. A research center like Forsyth, she thought, would be an ideal place to see if something from a scorpion's toxic sting could halt loss of teeth and the bones that keep them in place.
In the United States, such periodontal disease affects one out of every four people older than 30 years. In the rest of world, there are probably millions more suffering from jawbone loss and the teeth problems that go with it. Wouldn't it be wonderful if scorpion venom could help these people, thought Valverde. She took her idea to Martin Taubman, a Harvard professor of oral and developmental biology who chairs the Department of Immunology at the Forsyth.
"He was excited about the idea," Valverde recalls, "but cautious." The experiments would be costly in time and money, and there was no good evidence that the scheme would work. Taubman played devil's advocate and grilled Valverde about possible negative results of the work.
Finally convinced, he gave "the scorpion lady" a go-ahead.
Venom vindicated
Researchers don't actually squeeze the venom out of scorpions' tails. It's made synthetically, and you can buy it in a jar. Toshihisa Kawai joined Valverde and Taubman, and they assembled two groups of rats with induced periodontal bone loss. Those in one group got injections of kalitoxin, an ingredient of scorpion venom, while those in the other group did not.
Valverde was very nervous at this point. "It was the first time the toxin had been used in this way," she notes. "I was worried that it would cause disastrous side effects, like fatal heart or kidney problems."
"Are the rats dead?" she anxiously asked Kawai. His "no" relieved her of becoming the butt of many scorpion-lady jokes rather than a serious researcher with a sound idea.
After 10 days, Valverde was vindicated. Animals given kalitoxin, the venom component, enjoyed 84 percent less jawbone loss than those that didn't get the injections.
"We are very excited because this is the first demonstration that this type of compound may be useful in treating periodontal disease," says Taubman. "We hope that our findings will lead to success in alleviating the bone-ravaging effects of many other diseases."
Good candidates include rheumatoid arthritis and osteoarthritis.
According to Valverde, kalitoxin blocks Kv1.3, a protein that plays a major role in inflammation. When Kv1.3 is blocked, it decreases the activity of another protein that plays a key role in stimulating bone-eating cells known as osteoclasts.
"This is the first study we know of to show that such a blocker can decrease alveolar (jaw) bone loss," Valverde notes. "Furthermore, we observed no toxic side effects. Therefore, we now have a novel and apparently safe strategy to ameliorate bone destruction associated with periodontal disease. We expect that kaliotoxin and other Kv1.3 blockers can also be used to prevent bone destruction in other disorders such as osteo- and rheumatoid arthritis."
Before experiments with humans begin, however, there will need to be toxicology tests. The rats came out fine, but the venom ingredient must be tested for safety in people. Neither Taubman nor Valverde are planning such experiments yet due to lack of funds. But experiments are going on at other places. In Cuba, for example, the diluted venom of the blue scorpion has been used to treat various cancers. Other researchers are interested in the venom for treatment of inflammatory diseases in which the body's immune system goes awry and attacks itself the way bone-eating cells destroy jawbone. Such maladies include multiple sclerosis, lupus, and some 60 other disorders.
In the meantime, people are listening when Valverde tells them about the possibilities of a scorpion sting.