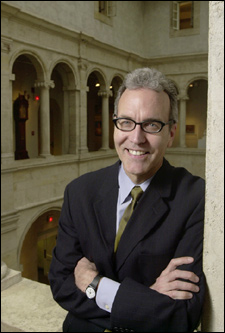 Thomas Lentz, the recently appointed director of the Harvard University Art Museums (HUAM), sits at a large oak table in his office in the Fogg Museum. Redecoration is under way, and except for a few chairs, the table is the only piece of furniture in the room, its round, spacious surface piled high with books, bulging folders, and loose papers.
His long legs crossed and his hands linked behind his head, Lentz seems comfortable and relaxed, but he makes it clear that he is under no delusions about the magnitude of the job he has taken on.
"Running an art museum today is a pretty complex undertaking. In addition to art historical issues, you're operating from a political, financial, and administrative perspective as well. You have to think about where you're going to be 10 or 20 years down the road and how you're going to get there. In the case of the Harvard Art Museums, we have a mission to promote teaching and research, but we also have to balance that with our role as part of the Cambridge community."
Lentz, who replaces James Cuno as the Elizabeth and John Moors Cabot Director of HUAM, is also well aware that it is no ordinary group of art museums he has taken over, but rather one with a unique legacy.
"The Fogg Museum, when it was built in the 1920s, was the only place in North America specifically designed to train art historians and art museum professionals. It played a major role in making art history a serious academic discipline – so history lies heavy on my shoulders."
As a Harvard graduate student who earned his Ph.D. in Islamic art in 1985, Lentz was a part of that history, although the museums in which he once studied look very different to him today.
"It's a much bigger operation than it was 20 years ago, with a far larger reach in terms of programs, visual traditions, geographical areas. There are also great opportunities for interns and fellows to experience the reality of what has to happen for an exhibition to go up or an acquisition to be made."
A native Californian, Lentz attended Claremont College as an undergraduate but dropped out to try to figure out what he wanted to do with his life. Traveling through Egypt and Turkey brought him into contact with artistic traditions that his undergraduate art history courses had barely touched upon.
"That trip opened up new vistas for me. Because much of Islamic art is nonfigurative or abstract in nature, it also gave me a further predisposition to appreciate modern and contemporary art."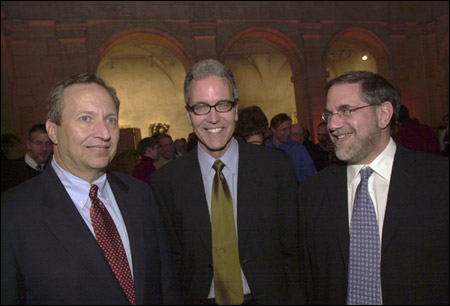 He returned with the desire to study not only Islamic art, but the region's history, culture, languages, and geography as well. At Harvard he worked with Oleg Grabar, the Aga Khan Professor of Islamic Art, and Stuart Cary Welch, the curator of Islamic and later Indian art at HUAM (both now emeritus).
After receiving his doctorate, Lentz took a job as curator of Asian art at the Museum of the Rhode Island School of Design. From there he went to the Los Angeles County Museum of Art as assistant curator, later becoming head of the department of ancient and Islamic art.
In 1992, he was hired by the Smithsonian Institution as assistant director for research and collections at the Freer and Sackler galleries. Eventually, he was promoted to director of the international art museums division at the Smithsonian, overseeing the Hirshhorn Museum and Sculpture Garden, the National Museum of African Art, the Freer and Sackler galleries, and the Cooper-Hewitt National Design Museum in New York City.
Lentz's first priority as he undertakes his new responsibilities is the renovation and expansion of the Fogg – keeping within the building's original footprint, while at the same time creating new space for modern and contemporary art.
He is currently in the process of sorting through and evaluating ideas for accomplishing this goal, hence the heavily laden table. But beyond the Fogg renovation, Lentz is interested in the potential for new museum space over the long term.
Lentz's desire to expand the resources of the Art Museums is, of course, motivated by the need to house and display the growing collection of artworks, now numbering close to 250,000 individual objects. But it is also necessitated by what Lentz sees as the Art Museums' role in the teaching and research activities of the University.
"I'd like the Harvard community to know that the Art Museums are not just an add-on to their experience here, but a place where people come to more fully understand the world in all its dimensions."
Lentz believes that this role is more important than ever because of changes in the way people process information.
"Forms of learning and perception have undergone a fundamental change as a result of the digital revolution, new forms of visual media, advertising, etc. People take in more information visually than ever before, so the need to understand visual phenomena – historically and critically – becomes more and more important."
People also come to the Art Museums to understand the world in all its cultural and aesthetic diversity. This point was made by Harvard President Lawrence H. Summers speaking at a reception on Jan. 26 to officially welcome Lentz to the University.
Summers remarked that the Art Museums are rich in works by artists whose names are familiar to most people, but also in works by artists known only to a few, at least in this country – Korean ceramicists or Persian miniature painters, for example.
"It should not be the case that the only works that are appreciated are from the Western tradition. The art by that seven-eighths of humanity who are not part of the Western tradition is every bit as important, and that art has been a focus at the Harvard Art Museums and in Thomas Lentz's career," Summers said.
Lentz believes that HUAM will continue to meet this challenge.
"The museums' interest in Asian art is longstanding, and we have the collections to back it up. I think we need to continually strive to present an accurate picture of the whole history of art."
In the future, Lentz plans to make that picture even fuller by strengthening the Art Museums' ties with Harvard museums representing other cultural traditions, such as Dumbarton Oaks and the Peabody Museum of Archaeology and Ethnology.
He also plans to strengthen the ties between the realm of art and that of science and technology by working with the Art Museums' Straus Center for Conservation, a facility that Lentz considers "of world importance," and the Center for the Technical Study of Modern Art, a joint program run by Harvard and the Whitney Museum in New York.
He also mentions Harvard's co-sponsorship of the archaeological excavation in Sardis, Turkey, as another program that gives the Art Museums added scope in scholarship and teaching.
"There are so many resources and so many capable and smart people here that there's really no need to fight unnecessary battles or retool things that already work," Lentz said. "It's just an honor to have the opportunity to contribute to the next chapter of this institution."