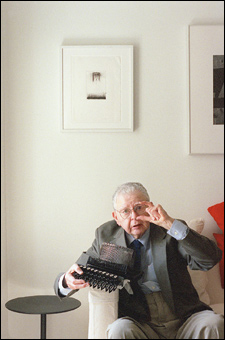 Albert Szabo, a teacher of architecture and design with a flair for finding beauty in the fragmentary debris of civilization, died Dec. 17 at Mt. Auburn Hospital from complications following surgery. Szabo, who suffered from Parkinson's disease, was 78.
Szabo, the Osgood Hooker Professor of Visual Arts Emeritus in the Department of Visual and Environmental Studies (VES) and professor of architecture emeritus at the Graduate School of Design (GSD), taught at Harvard since 1954 when he was invited to join the Faculty of Architecture at the GSD. In 1968, he and Eduard Sekler, who occupied the Osgood Hooker Chair before Szabo, co-founded VES.
Born in Brooklyn, N.Y., Szabo served in the U.S. Air Force during World War II, then attended Brooklyn College where he majored in fine arts and studied with architect Serge Chermayeff. During the summers he apprenticed at the firm of Bauhaus architect Marcel Breuer. Szabo next studied at the Institute of Design in Chicago, the "New Bauhaus," and subsequently earned his M.Arch. at Harvard's Department of Architecture, then chaired by Walter Gropius, founder of the Bauhaus in Germany.
In 1964, Szabo became chair of the newly created Department of Architectural Sciences, a forerunner of VES whose primary goal was to introduce the practice of the visual arts to undergraduates at Harvard and Radcliffe.
A highly effective and inspiring teacher, Szabo was often praised for the clarity with which he presented ideas and the enthusiasm he generated. His colleague of many years, John Stilgoe, the Robert and Lois Orchard Professor of the History of Landscape Development, said of him: "Albert Szabo brought the visual and design energy out of students who never knew they had it, and he refocused and redirected many undergraduates into careers they would never have imagined had they never met him in the design wing of the Department of Visual and Environmental Studies."
From 1974 to 1976 he was a Fulbright Lecturer in Architecture at Kabul University, Afghanistan. While there, he studied the country's indigenous architecture, which led to the publication in 1991 of the book "Afghanistan: An Atlas of Indigenous Domestic Architecture," named an outstanding academic book by the American Library Association.
His experiences in the Middle East also led him in 1979 to create a seminar on indigenous architecture, the first of its kind at the GSD. Teaching the class helped him to further develop his theories regarding the relationship between culture, climate, and context as basic to the evolution of form and purpose in indigenous and contemporary architecture.
In addition to teaching, Szabo maintained an architectural practice with his wife, Brenda Dyer Szabo, that began in 1952. The two met when they were students at the GSD. He also collaborated with architect Jerzy Soltan, the Nelson Robinson Jr. Professor of Architecture and Urban Design Emeritus.
Szabo retired in 1996, after teaching at Harvard for 42 years, the longest continuous appointment at the GSD. His postretirement years were chiefly occupied with artmaking, particularly the creation of sculpture from found objects such as tool handles, barrel staves, and shoe forms. In summer 2001 the Carpenter Center held an exhibition of his work, titled "Inventions + Interventions." It consisted of partly dismantled typewriters displayed in pristine shadow boxes along with quotations from famous authors.
At the family's summer rental on Sutton Island, Maine, Szabo would often send his children out to find treasures washed up on the beach, challenging them to find the object in which the least amount of material told the story of what it was.
He believed that developing one's powers of observation made life more fulfilling, saying in a 2001 interview, "To the extent that you can read form, you derive more satisfaction from your surroundings."
In addition to his wife, he leaves three daughters: Ellen of Greeley, Colo., Rebecca D. of Siena, Italy, and Jeannette D. of Waltham; a son, Stephen M., of Merrimac; and four grandchildren.