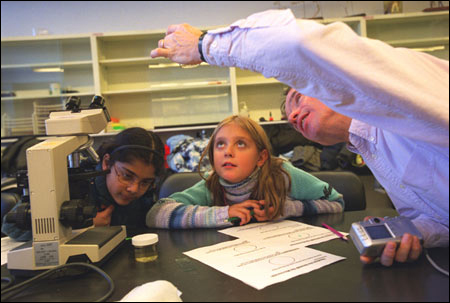 "It was weird, it was squirming around," said Baldwin School fourth-grader Taylor Vandick. "It had three antennas or fangs or whatever and it was squirming around."
"It" was a protista, a microscopic organism that – among its other attributes – squirms.
Vandick was one of dozens of Cambridge elementary-school children to peer through Harvard microscopes last Thursday (Jan. 8) at the Science Center.
The children – more than 100 in five elementary classes from five different Cambridge schools – were at Harvard for a science outreach program co-sponsored by the Department of Molecular and Cellular Biology, the Howard Hughes Medical Institute, and the undergraduate student group ExperiMentors.
The Cambridge students were treated to a series of laboratory workshops that explored paleontology for the younger students and gave a taste of microscope work to older children. After lunch, the day concluded with a tour of the Harvard Museum of Natural History.
"They hear about Harvard and hear about Harvard Square," said Carolyn Callender, who brought her 20 first-graders from Haggerty School. "This is a chance to see what Harvard's about truly."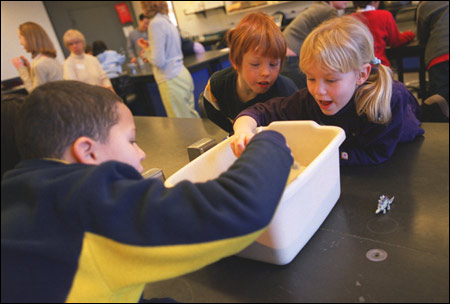 Robert Lue, director of the Department of Molecular and Cellular Biology (MCB) and the Howard Hughes Medical Institute (HHMI) outreach programs, said the event was the first collaboration between the department and ExperiMentors, which mentors elementary-school children in science.
The ExperiMentors' focus on younger children allows the MCB and HHMI to reach younger children than they've reached in the past, Lue said.
"We need to make a significant contribution to increasing science literacy," Lue said. "If we wait until students arrive on Harvard soil [as freshmen], we will be missing many wonderful students."
MCB Outreach Program Coordinator Tara Bennett worked closely with ExperiMentors and said the collaboration is beneficial to both the department and the group.
"The MCB-HHMI Outreach partnership with ExperiMentors allows them access to curriculum and teaching resources that are used in Harvard undergraduate education," Bennett said. "There are tremendous benefits to the staff of both programs as well as to the graduate teaching fellows and the community from this new outreach education partnership."
ExperiMentors Co-Director Tony Perez, '05, said ExperiMentors aims to supplement the Cambridge schools' curriculum and foster the efforts of classroom teachers. Through the 10-year-old organization, undergraduates regularly visit the same classroom and work closely with the class teacher, assisting with lessons, providing extra resources for demonstrations, and teaching science lessons.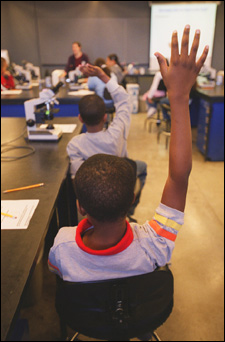 The organization's goal, Perez said, is to show children that science can be fun and to give them positive role models.
"We aim to supplement the science curriculum and really get them excited about science," Perez said.
Callender said the approach works, because the children see the undergraduates as people closer to their own age.
"They see them as friends, knowledgeable and excited about science," Callender said.
Thursday's outreach program involved classes that ExperiMentors have been working with since September.
During the laboratory sessions, younger children learned about paleontology, digging through the sand set up in boxes to find dinosaurs and shells, as a paleontologist would dig for fossils. They also made plaster casts of shells and other items, as a paleontologist would of a fossil find.
The older children attended laboratory sessions involving the microscope, going through instruction on how to take samples of their own cheek cells, how to stain them on a slide and view them through a microscope.
"It's cool because you get to look through a microscope," said Karl Chery, a fifth-grader from Kennedy-Longfellow School. Chery scraped cheek cells with a toothpick and wiped them on a slide as he spoke. "I want to see what it looks like."
Another laboratory session allowed the students to view single-celled protistas, such as the one that looked back at Taylor Vandick when she took her first-ever look through a microscope.
"I think it's fabulous for them to have hands-on experience with equipment of this nature," said Joe Sousa, a fifth-grade teacher at Kennedy Longfellow School. "I think they feel very special coming here. They're sort of in awe of the whole place."
The event drew the attention of Cambridge Mayor Michael Sullivan, who visited several of the laboratory sessions to watch the children in action. Sullivan said science literacy is becoming increasingly important, with the growing prominence of biotechnology in the regional economy. It's also important, he said, that students experience the world outside the walls of their classroom.
"There are many resources that the University has that, thanks to programs like this, can benefit kids in the community," Sullivan said.