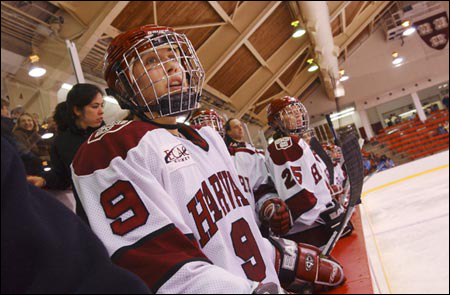 With bragging rights on the line, the Harvard men and women's hockey teams will compete next week for "Best in Boston" in the famed Beanpot Tournament. Both Crimson squads will square off against the Boston College Eagles in the first round, with the winner advancing to the championship game a week later to take on the victor of the Boston University-Northeastern match-up.
B.C.'s men's team (18-3-3, through Jan. 29), which is ranked second in the nation in the USA Today/American Hockey Magazine Men's College Hockey Poll, clipped Harvard, 3-2, when the teams met earlier this season in December. The lady Eagles (5-11-2, through Jan. 25) meanwhile, have yet to face the No. 2 Crimson in the 2003-04 campaign.
This year marks the 52nd edition of the tournament for the men's teams, and the 26th for the women's competition. Last season, Harvard's women's team earned a pair of 7-0 shutouts – first against BU in the opening round and later opposite B.C. in the championship game – to clinch their fifth straight Beanpot title. Meanwhile, the Crimson men were edged by the eventual champion BU Terriers (winners of a tournament-high 25 titles), 2-1, before bouncing back with a 4-1 victory over Northeastern in the consolation game.
All told, the men have hoisted the pot 10 times, the last time in 1993, while the women have captured the title nine times.
The FleetCenter will again play host to this year's action, as the Harvard men (8-9-2; 1-5-1 Ivy, through Jan. 29) take to the ice Feb. 2. The women's team (13-1-1; 1-1-0 Ivy, through Jan. 29) kicks things off Feb. 3 at B.C.'s Kelley Rink. Opening faceoff for both games is 8 p.m. The second round will be held a week later: Feb. 9 for the men, and Feb. 10 for the women.
For ticket information, call the FleetCenter's box office at (617) 624-1000, or the B.C. ticket office at (617) 552-4622.