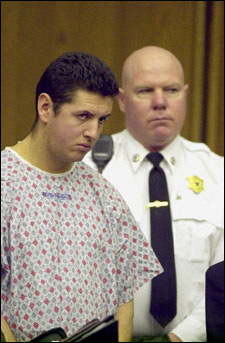 Cambridge Police, working in cooperation with Harvard University Police, arrested a Holyoke Center maintenance worker Tuesday (Jan. 20) evening in connection with an indecent assault on a female graduate student on Mount Auburn Street.
Geremias Cruz Ramos, 27, of Revere, was charged with indecent assault and battery on a person over 14 and arraigned Wednesday morning in Cambridge District Court.
The incident that led to Ramos' arrest occurred at about 8 p.m., when a man approached a female graduate student from behind as she was walking on Mount Auburn Street, stepped in front of her, groped her, and walked off.
The victim screamed and called police on her cell phone. Ramos allegedly fled up Dunster Street and down the ramp that leads to Holyoke Center's parking garage.
Cambridge and Harvard University police responded jointly and searched the area. After reviewing Holyoke Center security videotapes, officers believed the assailant may have been a member of the Holyoke Center maintenance crew. Police gathered maintenance workers together and the victim identified Ramos as the assailant.
Ramos is a contract custodial employee of Sodexho USA, which provides cleaning services for the University.
Though an arrest was made in Tuesday's case, the investigation into other Harvard Square-area assaults in recent weeks continues. Harvard Police cautioned members of the University community to remain vigilant and maintain precautions to guard against assaults.