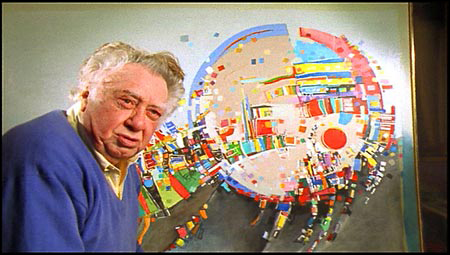 Albert Alcalay is a survivor. Born to Jewish parents in Serbia in 1917, he and his family were forced to flee when the Nazis took over in 1941. They ended up in a concentration camp in Calabria, Italy, populated primarily by Jewish artists and intellectuals, and it was in that unlikely setting that Alcalay began studying painting.
Michel Fingesten, a well-known German-Jewish artist, was a fellow inmate, and Alcalay began to study with him, paying for his lessons with jars of marmalade that he received from the Red Cross. What Fingesten taught him was more spiritual than practical, but it was this influence that made him decide to turn to art as a career.
"He had such an aura about him that I knew I would just have to become an artist," Alcalay said.
The story of Alcalay's escape from German Nazis and Italian Fascists, his development as a painter, his immigration to the United States where he became one of the founders of Harvard's Department of Visual and Environmental Studies (VES), and his struggle to remain creative despite severe health problems, is told in a new film, "Albert Alcalay: Self Portraits," premiering Jan. 22 at the Harvard Film Archive.
The film is the work of three former Harvard students, all members of the Class of 1974. Rob Eustis was an English concentrator who took Alcalay's "Introduction to Visual Design" during his junior year and again as a senior. He has maintained contact with his former teacher, taking several courses with him at Harvard Extension School. Now a lawyer, Eustis has become something of an expert on Alcalay's life and work, and played an organizational role in the making of the film.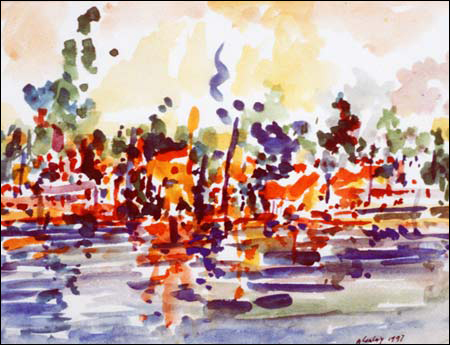 "I'm sort of Albert's curator," he said.
Rob Tranchin was a VES concentrator who became captivated by Alcalay's teaching style despite an initial lack of interest in anything that did not relate to photography and filmmaking.
"He was such an engaging personality and he's amazingly articulate at explaining the expressive origins of abstract art, where it springs from and how it acquires meaning."
Now a documentary filmmaker working for PBS in Dallas, Tranchin said that the opportunity to spend time working with Alcalay made the film "a dream project."
Allen Moore, another documentary filmmaker and VES alumnus, never took courses with Alcalay but was eager to join the project because of his relationship with Tranchin. The two filmmakers had collaborated on several projects in the past, and Moore was eager to do so again, despite the fact that the film would have to be made in their spare time.
Moore said that he has gotten to know Alcalay much better in the nearly five years he has served as cameraman on the film.
---
The Harvard Film Archive will screen 'Albert Alcalay: Self-Portraits' on Jan. 22 at 7 p.m. A reception with the artist and the filmmakers will follow. In addition, an exhibition of recent watercolors by Alcalay will be on view at the Carpenter Center Jan. 22-23.
---
"He's a wonderful human being, and his artwork is so rich and beautiful that it's a pleasure to photograph or just gaze at," he said.
The film traces Alcalay's career through interviews, old photos, and visual explorations of his paintings. As we see his development from a fresh-faced young man to a silver-haired octogenarian, we also see how his artwork has changed in response to his influences and experiences.
Beginning as an expressionist in the manner of Matisse or Derain, he faced a major challenge when he arrived in America and encountered unfamiliar elements such as skyscrapers and jazz. In the film he describes how he spent days contemplating the New York City streets and trying to find a new visual language in which to respond to his new environment.
Another challenge was the sudden death of his close friend Mirko Basaldella, an Italian sculptor who taught with Alcalay at VES. Unable to express his shock and grief, he set up a large canvas and began to paint. When he stepped back from the painting, he realized he had discovered a new style, one that he continued to explore over the next several years.
Alcalay describes these visual discoveries as a process of self-realization. "You paint and paint and paint," he says, "and eventually there comes a time when the painting looks back at you and says, 'Hey, this is you!'"
But self-discovery is an ongoing process, driven by personal development and changing circumstances. This process, Eustis says, is the theme of the film.
"It's the story of an artist whose style constantly changes to reflect what's happening in his life."
Old age has brought Alcalay new and even greater challenges, but as the film makes clear, he has responded to them with courage and creativity. Troubled by heart disease, arthritis, and other ailments, he nevertheless manages to ascend the stairs to the third-floor studio in his Brookline home and spend each day doing what he has always done, making art.
Macular degeneration has dimmed his eyesight to the point where he is now legally blind. His response has been to develop a new style of watercolor painting, a semi-abstract language of colorful, luminous shapes adapted to his diminished vision.
In one of the film's most moving scenes, Alcalay talks about the good fortune that allowed him to survive the deadly forces that engulfed Europe during his youth and the sense he has always had that he was spared so that he could bring to others the life-affirming power of artistic creation.
If that is the case, Eustis says, he has certainly succeeded.
"I've always been amazed at the numbers of people he's touched in a positive way."