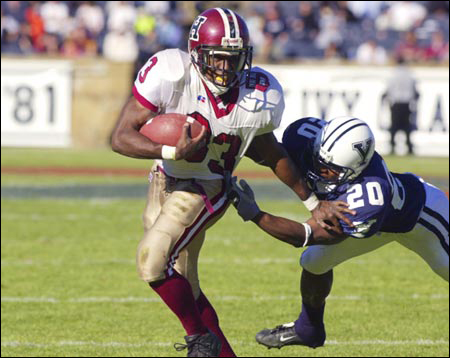 Featuring two of Division I-AA's most prolific teams, the 120th playing of "The Game" was billed as a battle of offensive might. And even though Harvard and Yale combined for nearly 1,000 total yards and 48 first downs (not to mention Yale quarterback Alvin Cowan's record-setting day of 438 yards), that tagline proved less than comprehensive at the end of the day.
To be sure, it was "The Game's" under card – the enduring, and at times, flat-out sensational Harvard defense – that served to soften the Bulldog bite, as Harvard went on to capture the Nov. 22 contest, 37-19, in front of 53,136 sun-drenched fans at the Yale Bowl.
Playing very much like it was his final game in a Harvard uniform, senior linebacker Dante Balestracci paced the Crimson defense with eight tackles, a sack and a half, and a blocked extra-point attempt. He also took the snap on a fake punt in the second quarter for an eight-yard gain. It was a gamble that set up the Crimson's next scoring drive – and its go-ahead touchdown – as Harvard took a 10-3 lead.
Freshly dubbed MVP by his teammates, Balestracci, who recently became the first player in Ivy League history to earn All-Ivy first-team honors for four consecutive seasons, topped off "The Game" (arguably one of the best of his career) with a recovered onsides kick with 1:45 left on the clock.
As a team, the Crimson denied the high-octane Yale offense when it mattered most, thrice stumping the Bulldogs in the red zone. A further testament to the clutch Harvard defense: Yale had possession of the ball nearly five and a half minutes longer than the Crimson. What's more, the Bulldogs' astounding 14 (of 22) third-down conversions proved all for naught.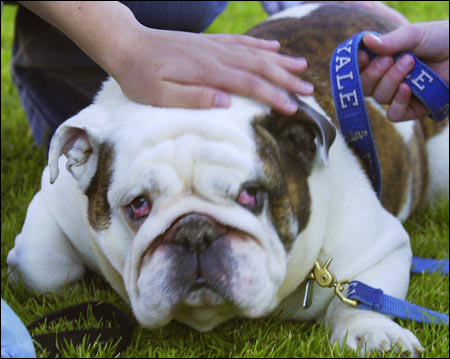 Harvard never trailed in the game, converting a 3-3 tie at the end of the opening quarter into a 17-6 advantage at the half. Favoring a sprained ankle and torn cartilage in his knee, quarterback Ryan Fitzpatrick '05 still managed to effectively orchestrate the Crimson all afternoon, completing 13 of 22 passes for 230 yards and four touchdowns. Rushing, Clifton Dawson '07 slogged it out on 32 carries for 174 yards – more than enough for his sixth straight 100-yard performance.
The victory secured a four-way tie for the Crimson for second place alongside Brown, Dartmouth, and Yale, who all finished with a 4-3 mark in the Ancient Eight. In the bragging-rights department, the win also established Harvard as the Big Three title-holder, having edged Princeton, 43-40, in overtime back in October. The win marks Harvard's third straight in the storied series against Yale.
Four other Crimson players joined Balestracci as first-team All-Ivy selections this season. They include Dawson, cornerback Benny Butler '04, who had a league-high five interceptions, safety Chris Raftery '04, who broke up nine passes to pace the Crimson, and offensive guard Joe Traverso '04. With seven touchdown receptions, wide receiver Brian Edwards '05 made all-league second team, along with defensive tackle Jon Berrier '04, who recorded 29 tackles. Garnering honorable mentions were Fitzpatrick, offensive tackle Joe Mujalli '04, and defensive end Brad Payne '04.